Contracted
(2013)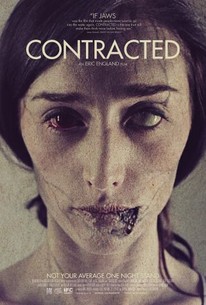 Movie Info
After a sexual assault by a random stranger, Samantha contracts what she thinks is an STD... but is in fact something much worse. (c) IFC Midnight
Critic Reviews for Contracted
Audience Reviews for Contracted
Most pointless movie ever. The whole movie is just the girl turning into a zombie and constantly being a bitch to everyone especially her mother. No likable characters at all. They are all horrible/creepy people. You don't even know why she turns into a zombie. She has unprotected sex with a random guy at a party and gets sick. The next day the police are looking for the guy. The one girl says the police are looking for the guy, but won't say why. Later she says the police are looking for him because he's a child molester. Then even later the girl says the police are advising people to stay far away from him. This doesn't answer any questions I had while watching, and the fact that he's a child molester is completely irrelevant to the story. We never find out why she turns into a zombie, if the guy she had sex with was a zombie, and why there are parasites in her vagina. We never find out. The movie acts like its a mystery trying to figure out what is wrong with her and in the end, we're left unsatisfied because the point of the whole movie was never answered. The whole time the girl is running around trying to find out what's happening to her. We find out she's a zombie, but don't know why. It's just a really stupid movie with no point to it. I guess the moral of the story is don't have unprotected sex with strangers at parties or else you'll turn into a zombie and kill all your friends.
Body horror takes the form of an STD in hyperdrive spreading from one host to the next. Contagion focuses on Samantha, and the virus she's infected with can be a metaphor for unprotected sex, her homosexuality, or her shallow personality reflected outwards. There is a lot of territory that the film doesn't explore, and it ends abruptly just when things get interesting. But it does the trick in delivering plenty of gross out, unnerving moments.
Edward Boxler
Super Reviewer
This is a pretty damn smart, and subversive, horror movie. I say this because it's pretty much an anti-zombie film. It's a zombie film without relying on all the typical cliches and stereotypes seen in stuff like The Walking Dead. This film tells the BEGINNING of the outbreak through the eyes of Samantha, whose one night stand at the beginning of the film has left feeling some pretty terrible side effects such as puking blood, her nails and teeth are falling of, etc. Basically, the story is that she's rotting pretty much from the inside out. And it's a really cleverly told story because you're not even aware of the fact that it's a story about the start of the "zombie" outbreak until at least 3 minutes before the film ends and I really believe that it does so in such an effective manner that you never really even think about the possibility, at least before the ending, that this is anything more than what is presented to you, as this woman suffering some very extreme effects after having sex with a man that's been up to some pretty unsavory things if the beginning of the film is any indication. The fact that it's a cleverly disguised film about the start of the zombie outbreak was really one of my favorite parts of the film, if not my favorite. The rest of the film is quite good and seeing Samantha's physical, and even emotional, transformation is really good and seeing how her life slowly starts to spiral out of control. The make-up for Sam's physical transformation is as good as it's gonna get for what it is essentially a low-budget horror film. The acting is also quite solid from all involved. There's no one real outstanding performance, but they're all more than solid. As mentioned, the story is very smartly-written and even if the film certainly takes a while before it really gets going, I think the payoff, and its ramifications, make this film more than worth watching. No complaints here, good film and good twist on a concept that, pun not intended, has been done to death.
Jesse Ortega
Super Reviewer