Contracted: Phase II
(2015)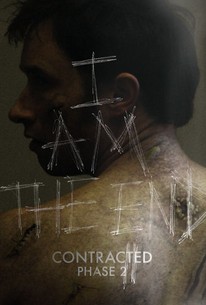 Contracted: Phase II Videos
Contracted: Phase II Photos
Movie Info
A sexually transmitted virus is ravaging LA and turning lovers into flesh-eating zombies and one man is in a race against time to stop it.
Critic Reviews for Contracted: Phase II
Audience Reviews for Contracted: Phase II
The first Contracted might not have been critically acclaimed by critics, or audiences, but I thought it was a really cleverly told story. You spend the entirety of the first film wondering what exactly is happening to Samantha that's causing her to rot from the inside out. Then, literally at the end of the film, you find out that the entire thing is the start, if you will, of the zombie apocalypse. They never refer to them as zombies, but you know what they are. I thought it was really clever, because you spend the entire film thinking one thing, before they throw in a curve ball that completely changes everything prior to that. So, when I found out that there was a sequel planned, I was a little bummed, because there's no real intrigue. You know that the necrotic STD is turning people into zombies upon their death. What's the intrigue? It's already lost, because the first film, to me, seemed to be a bit of a one-and-done. It was meant for that one shocking moment, before abruptly ending, because you knew what was coming next. I think the sequel, however, does a fairly decent job at justifying its own existence as the plot focuses on trying to bring down the man who created this STD, who also happens to be immune to it. Though, to be fair, I thought this was a little corny because the villain of the film is portrayed as this nihilist who views humanity as a plague that needs to be eradicated and he is the person to do so. Essentially, this guy is a terrorist. I just thought it was a little goofy, to me at least. At the very least it changes the focus of the movie. It's now not just about Riley and how the disease affects him physically, now it's about stopping the terrorist. So you can say that the sequel is, somewhat, different from the original. And I say somewhat because the transformation itself is pretty much the same thing that you saw in the first film, with the exception that, at the very least, Riley knows what's going on. Which is a little odd to me, because he seemed to figure shit out much too quickly for someone who's not in the know-how about these things. That was a bit of a flaw to me. The film isn't bad, actually, I just found that with the goofiness of the terrorist villain and the sameness of Riley's physical transformation, it just didn't really come together. It doesn't wholly feel like a truly unique work of fiction, like the first film felt. And there's ways to make a sequel to a film unique, like 10 Cloverfield Lane did, as an example. But they just add some small new elements and, essentially, repeat the physical transformation from the first film. I don't think that's enough to make a movie great. Don't misunderstand me, however, Riley's physical transformation as he's dealing with this disease that rots him from the inside out is excellent. The practical make-up effects are top-notch and effectively gross. I wasn't grossed out by it, but I can see how some people might. So that, easily, was the best part of the film. The make-up effects are just fantastic. I don't think they're as good as the last Cabin Fever did, the one with Sean Astin, not the upcoming remake, but they're as good as one might imagine from a film with, I'm assuming, a relatively small budget. The acting itself is perfectly fine, no one really stood out (outside of Anna Lore for being adorable). I did think the ending itself, like everything at the hospital, was cool. Like how they just abruptly end it. The 'post-credits' scene was also cool. It's just really a shame that the rest of the movie couldn't match up to the greatness of the make-up effects. It's like they had the effects and tried to base a movie around that and not the other way around. Like they came up with the effects first and then wrote the movie. And I think it should've been the other way around. With that said, to be honest, the movie isn't bad. It's just a little goofy, particularly if you saw the first film, which is recommended. You can do much better, like the original for starters, but this offers some great make-up that'll at least make this film watchable for horror geeks.
Jesse Ortega
Super Reviewer
Contracted: Phase II Quotes
There are no approved quotes yet for this movie.