Control Room
(2004)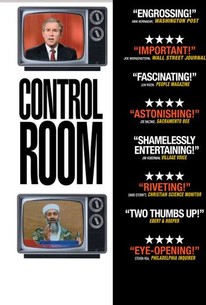 Movie Info
A chronicle which provides a rare window into the international perception of the Iraq War, courtesy of Al Jazeera, the Arab world's most popular news outlet. Roundly criticized by Cabinet members and Pentagon officials for reporting with a pro-Iraqi bias, and strongly condemned for frequently airing civilian causalities as well as footage of American POWs, the station has revealed (and continues to show the world) everything about the Iraq War that the Bush administration did not want it to see.
Critic Reviews for Control Room
Audience Reviews for Control Room
Brilliant documentary that chroniclers the start of the Iraq on the Arab side. With interviews from Al Jazaeera, we get a glimpse into the war that we've never seen, and it's an engaging documentary that shows us something that is captivating in the sense that we get a different look at the war, and the documentary goes in depth on its topic. I'll keep my personal feelings of that war out of this review, but what is presented here can raise questions in viewers. Al Jazeera did not sugar coat the images, and showed the world disturbing images of the conflict that raised many eyebrows. As a documentary, Control Room is a powerful, engaging picture that offers something quite different than what the other news networks has given viewers. This tells the story from the Arab point of view, and it does it very well, and with this film, we get a much more complete picture from both sides of the spectrum of the Iraq War. The film is brilliantly shot with plenty of interviews and war footage to tell its story. Control Room is an important film, a documentary that is well worth your time if you are interested in the subject. Control Room's power is in the way it tackles the subject by documenting it from a different point of view. The film focuses on the new coverage of the war, and it's a captivating look at that, and Al Jazeera is the focal point of the film, but we also have other news agencies documented. However like I said, Al Jazaeera is the main focus and what is presented here is quite interesting, and we get a great portrait from the Arab side as well, which is quite interesting.
I did not know what this movie was about goin in, but I really liked it. I thought it was very refreshing to see a new take on the media and its coverage of the war in Iraq. There's a little more immediacy to this movie than contemplation, and I was expecting a little more commentary about the social impact that an Arabic-language news network on the ciizens of the Arabic-speaking world, but instead if covered how America reacts to thier coverage and how news reporting is done in Al-Jazeera. Very interesting movie, but I might have taken it a different way.
Emily Armstrong
Super Reviewer
I have always had this fascination with Al-Jazeera and haven't made up my mind whether they are a beneficial organization or not. This film is the best argument for suggesting that the station is one of the most impartial broadcasters in the world.
John Ballantine
Super Reviewer
Control Room Quotes
There are no approved quotes yet for this movie.