Conversations With Other Women
(2006)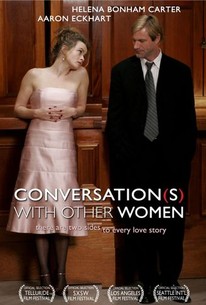 TOMATOMETER
AUDIENCE SCORE
Critic Consensus: Its occasional use of split screen may feel gimmicky at times, but Conversations With Other Women is a bold, inventive drama carried by its two charismatic leads.
Conversations With Other Women Photos
Movie Info
An encounter between two people with a shared past and conflicting futures is played out on a split-image screen in this offbeat drama. An unnamed man (Aaron Eckhart) and woman (Helena Bonham Carter) are enjoying drinks and cigarettes in a hotel room after attending a wedding reception. At first, the two seem to be playing a flirtatious game, as he cheerfully but confidently advances toward her, and she seems at once attracted and put off by his bravado. Their pas de deux is shot and edited in split screen, with his image appearing in one half of the divided frame and hers appearing in the other. As time wears on, the man and woman begin crossing their appointed boundaries, and in some sequences one half of the frame represents the present while the other shows us events in the past. We learn that the man and woman had a tempestuous affair when they were in their late teens, and both are now committed to other people -- she has a husband, while he has a steady girl. How will the experiences of their past affect their present, and are they willing to betray their lovers for an evening's pleasure? Conversations With Other Women was the first feature film from director Hans Canosa.
News & Interviews for Conversations With Other Women
Critic Reviews for Conversations With Other Women
Audience Reviews for Conversations With Other Women
½
HBC and Aaron Eckhart meet at a wedding, and we get the impression that it's not the first time. Their characters' history is hinted at in split-screen flashbacks with doe-eyed Nora Zehetner as the former, whose resemblance to early-aughts HBC is really quite inspired, but her accent could use a little work. We know these ex-lovers are gonna fuck tonight, but the cat-and-mouse foreplay is still subtly suspenseful, with underhanded barbs and guarded tellings of their separate pasts. The script IS basic with no notable or quotable aphorisms, but I like that. The characters aren't trying to impress each other. HBC and Eckhart are so easy together that it's clear to see how the act of having sex doesn't really matter and how cheating on their SOs essentially isn't meant to be a hurtful or sinful thing, but a matter of course for the soul-connected. I didn't love or hate the split-screen technique. At first I found it difficult to watch because I couldn't tell where the angles and POVs were, but I got over it and enjoyed the few moments where the screens showed the future and the characters' different reactions. The end when the screens match up confuses me though. Do they end up together? Should they?
Alice Shen
Super Reviewer
A man and a woman flirt at a party, and we gradually learn that their history is far more complex and intertwined than at first glance. This story is told completely using split screen, and though this gimmick works effectively at the end, most of it is truly annoying. Part of writing and filmmaking is about making choices - what to show, what to reveal through dialogue, images, or subtext - and this film abdicates many of the more important choices, electing instead to overload the viewer with too much information. Also, I found the story rather cliche. We know fairly early what is going to happen here, and though the reveal at the beginning of the second act comes as a bit of a surprise, there isn't much beyond that. There is an awful lot of dialogue - this is one of the most talky films I've seen recently - but there aren't many memorable lines or moments, and it seems like very little is actually communicated between these two characters. What I liked were the few moments when the split screen worked to reveal each character as lonely and isolated and when the reaction was just as important as the words. Overall, even if you find the gimmick interesting, I doubt the basic story will seem all that original.
Jim Hunter
Super Reviewer
Cast: Helena Bonham Carter, Aaron Eckhart, Nora Zehetner, Erik Eidem, Thomas Lennon, Olivia Wilde, Cerina Vincent, Brian Geraghty, Brianna Brown Director: Hans Canosa Summary: Sparks fly at a wedding reception when a man (Aaron Eckhart) and woman (Helena Bonham Carter) with an ambiguous connection are reunited in this stylish romantic drama. As the layers of their past relationship gradually peel back, they rekindle a smoldering flame. My Thoughts: "Unique directing style that I liked. I loved the story and how it played out. It gradually gives you bits and pieces of their story, which is smartly done keeping you intrigued the entire film. I just adore Helena Bonham Carter. She's such a great actress. Aaron Eckhart and Helena did a fantastic job at keeping your full attention. It can become very boring when a story just has one or two actor's through an entire film. But they are great actor's and managed without much to keep my attention. Great movie."
♥˩ƳИИ ƜѲѲƉƧ♥
Super Reviewer
Conversations With Other Women Quotes
There are no approved quotes yet for this movie.