Conviction
(2010)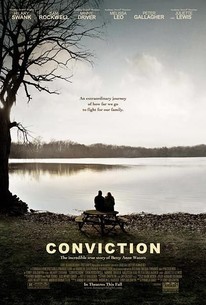 TOMATOMETER
AUDIENCE SCORE
Critic Consensus: Less compelling -- and more manipulative -- than it should be, Conviction benefits from its compelling true story and a pair of solid performances from Swank and Rockwell.
Movie Info
CONVICTION is the inspirational true story of a sister's unwavering devotion to her brother. When Betty Anne Waters' (two-time Academy Award winner Hilary Swank) older brother Kenny (Sam Rockwell) is arrested for murder and sentenced to life in 1983, Betty Anne, a Massachusetts wife and mother of two, dedicates her life to overturning the murder conviction. Convinced that her brother is innocent, Betty Anne puts herself through high school, college and, finally, law school in an 18 year quest to free Kenny. With the help of best friend Abra Rice (Academy Award nominee Minnie Driver), Betty Anne pores through suspicious evidence mounted by small town cop Nancy Taylor (Academy Award nominee Melissa Leo), meticulously retracing the steps that led to Kenny's arrest. Belief in her brother - and her quest for the truth - pushes Betty Anne and her team to uncover the facts and utilize DNA evidence with the hope of exonerating Kenny. -- (C) Fox Searchlight
Critic Reviews for Conviction
Audience Reviews for Conviction
Conviction could have been a compelling, extremely moving, and heat-warming story, but the way Tony Goldwyn and the cast of Conviction tell it, it's not so gripping (boring even at parts) and compelling, but it tries to manipulate the audience to care, to cry, to cheer. But to tell the truth, it got about half-way. There is almost no history to these characters, and there are a lot of people to remember the names of, and we are supposed to hate, or love these people, but we don't know much about them, nor have we seen much of them either. The performances by Hilary Swank, Sam Rockwell, Melissa Leo, Minnie Driver, Juliette Lewis, Baliee Madison, and Tobias Campbell are what keep this film above water. See this film for the extraordinary performances, if for nothing else.
Raymond Wieser
Super Reviewer
Sometimes you swear that you've seen a film before - Conviction is like that... where have you seen this type of plot boiler before? The kind of film that preaches rather than educates and tries to get by on the "true story" aspect instead of giving us something riveting and original to chew on. Not that the story itself isn't compelling, but the whole "woman forsakes all (including her family) to attempt to free her brother" (umm, isn't he family... ok, so she forsakes her husband and neglects her kids (who still love and cherish her as portrayed in several Hallmark moments) in favor of her brother (who is ying to her yang as shown in several childhood flashbacks) is simply so unbelievable and trite that it makes your teeth hurt. Did I mention that this film also tries to rely on star power? Hillary Swank takes the lead as the sister of a convicted murderer. Sadly she doesn't do a lot of heavy lifting here, but I suppose she is sincere enough, though hemmed in by the aforementioned plodding and overripe plot. She does well at setting her jaw and showing the dogged, against all odds determination that the role requires. However, Sam Rockwell is the real deal in the film, demanding your attention in every scene he's in, as he plays the "bad boy" who gets tabbed for the in home robbery and murder of an elderly neighbor. The film attempts to heighten the drama by playing cat and mouse with the "did he do it?" question, but later fall flat as it glosses over some of the police procedural aspects, while dwelling too long on others. The courtroom scenes in which the prosecution parades a series of damning testimonies is almost laughable - I was just waiting for his attorney to object or drill holes into the flimsy narratives, but it never came - yet another example of how the film tries to manipulate and ram "the facts" down your throat, with no regard to how the hole thing plays. The wonderful Mellissa Leo is miscast and underused as the female cop (another faux pas as she is somehow the lead investigator and isn't even a detective... oops), and Minnie Driver as the "buddy" of the film is also underused - what a waste of two fine acting talents. The film seemed as if it couldn't decide whether it was a police procedural mystery, or a human character study - and as is usually the case when a film can't decide - it failed at both. Still, there is enough to chew on here to give this a marginal passing grade. I was nodding in agreement at the inferred bit of human nature as the prosecuting attorney, now a high powered political wheeler dealer, tries to block the investigation - not wanting to admit that perhaps they convicted the wrong man, she'd rather defy the basic tenants of her profession "let justice be served". The film adds a final tag that tells us that over 700 convictions have been overturned due to the reopening of cases to allow for DNA evidence. That's just swell, unless you're aware that there is a backlog of over 100,000 cases waiting DNA testing.
paul sandberg
Super Reviewer
½
Based on fact, this is the true story of one Betty Anne Waters who decides to get her GED, then complete college and law school in an effort to exonerate her brother who has been condemned to life in prison. Kenny Waters was convicted and sentenced in 1983 for the 1980 murder of Katharina Brow in Ayer, Massachusetts. What ultimately raises Conviction beyond your conventional "triumph over adversity" account, is the acting. Hilary Swank and Sam Rockwell are Betty Anne and Kenny, respectively. As siblings they convey a deep bond as family who have grown up together and remained close into adulthood. We see them as kids and then as adults, willingly supporting each other at various points throughout. Their portrayals are genuine and engaging. Betty Anne's devotion to her brother is the emotional connection that causes the viewer to be invested in this material. Director Tony Goldwyn will always be best remembered as playing the villain, Carl Bruner, in Ghost. But he has also directed a significant number of TV shows including The L Word, Grey's Anatomy and Dexter. He's a workmanlike director and his comfortableness with TV often pushes the proceedings here into Lifetime movie territory . At times the plot can appear a bit simplistic in the way it unfolds. Great performances are what elevates the melodramatic script to something much more powerful. Impressive depictions from a talented cast make Conviction a film to believe in.
Mark Hobin
Super Reviewer
Conviction Quotes
There are no approved quotes yet for this movie.