Coogan's Bluff
(1968)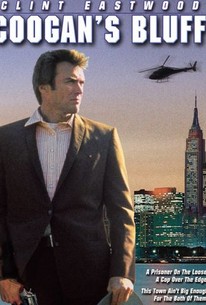 Movie Info
Clint Eastwood stars as Walt Coogan, an Arizona deputy sheriff who has been sent to New York City to extradite escaped killer James Ringerman (Don Stroud). On arrival, he's forced to wait by NYPD detective Lieutenant McElroy (Lee J. Cobb), who informs him that Ringerman is recovering from a bad acid trip at Bellevue Hospital. After briefly flirting with attractive probation officer Julie Roth (Susan Clark), Coogan heads for Bellevue, where he's able to con the hospital's staff into releasing the criminal. The cop and the fugitive are on the way to catch a flight back to Arizona, when Ringerman's hippie girlfriend Linny (Tisha Sterling) and a large accomplice spirit the killer away, leaving Coogan unconscious. Luckily, Julie is the girl's probation officer, and Coogan manages to get her address from the woman's files while getting to know her better. He tracks the girl to a popular psychedelic club, whereupon, deciding she likes the deputy, she takes him back to her apartment for further interrogation. The first in a series of films on which Eastwood would collaborate with director Don Siegel, it features a memorable scene in which a battle fought with billiard balls and cue sticks suggests the birth of a new martial art. Although its seemingly innocuous scenes of sex and violence drew criticism at the time, it served as the source for television's considerably more benign McCloud, starring Dennis Weaver as the laconic fish out of water.
Critic Reviews for Coogan's Bluff
Audience Reviews for Coogan's Bluff
½
Coogan's Bluff is a well directed drama by director Don Siegel who would later collaborate with Clint Eastwood again with Dirty Harry and Escape from Alcatraz directs Eastwood who portrays Walt Coogan a Sheriff from Arizona tasked with bringing back a criminal into his custody in Arizona. For what it is, Coogan's Bluff is an entertaining film that is supported by a good cast of actors. However Clint Eastwood has made far better films than this. Siegel's directing is effective, and the cast do a good job in their roles. This is a good film that is a must see for Eastwood, and if you enjoy Eastwood in his prime, then give this film a shot. But be warned that the film is not as good as others in his career and Siegel would make a far better film with Dirty Harry, also starring Clint Eastwood. Enjoyable and with a compelling plot, Coogan's Bluff is a well crafted film that is a modern day Western and it works well enough for the viewer to be entertained for an hour and a half. At times the film does suffer, but is held together by a solid performance by Clint Eastwood. Aside from his Spaghetti Westerns, this is among his earlier works that shows how talented an actor Eastwood would become. If you're a fan of Eastwood's work, then give this one a shot, it's a well crafted film that has a good plot, good acting and good directing. As far as modern Westerns are concerned, Coogan's Bluff does the job right, and combines drama and a bit of action mixed with a cat and mouse plot to make it something memorable despite its flaws.
Coogan: All right now, I don't like violence, Mr. Wonderful whatever your name is. You better drop that blade, or you won't believe what happens next, even while it's happening.  "Before "Dirty Harry"... there was Coogan." A pre-Dirty Harry team up of Don Siegel and Clint Eastwood is pretty much what you would expect. It is Clint Eastwood playing his Harry Callahan character even before that character existed. The movie is nothing special, but if you like Eastwood, and you like Siegel; you can't really go wrong with Coogan's Bluff.  I liked it for Siegel's cool ariel chase sequences and Eastwood's one-liners. Eastwood's character is a man of few words, fewer rules and many women. An Arizona deputy comes to New York in order to take a prison back with him. When he gets there he is told that the prisoner is in a hospital, tripping on LSD and that he will just have to wait. But he doesn't play by the rules, so he hatches a scheme to get him out and go to Arizona, but the culprit gets away and the rest of the movie I am sure you can guess.  The film is definitely fun. It has the standard cop plot, with some awesome camera work. It has its problems, like a horrible depiction of the hippy scene with some of the most cliche stoner behavior I have ever seen. But other than I few plot missteps it is still a good first collaboration between Siegel and Eastwood. It isn't as good as Dirty Harry or near the brilliance of Escape from Alcatraz, but entertaining all the same.
Melvin White
Super Reviewer
½
It's an hour and a half of pure man, starring Clint Eastwood. Coogan hunts men like game, sleeps with their women, kills people via poolball and chokes out anyone who gives him a dirty look. It's more violent and less honorable than Dirty Harry, but that's why it works so well. Don Siegel does a great job at bringing together this very exploitative cop movie, yet still making it seem like art rather than trash. Part of that lies in the great camerawork, score and structure. You're never left bored or unimpressed with this very original and very cool Neo-Western.
Conner Rainwater
Super Reviewer
Coogan's Bluff Quotes
There are no approved quotes yet for this movie.