The Cook, the Thief, His Wife & Her Lover
(1989)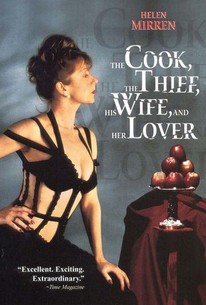 TOMATOMETER
AUDIENCE SCORE
Critic Consensus: This romantic crime drama may not be to everyone's taste, but The Cook, the Thief, His Wife & Her Lover is an audacious, powerful film.
Movie Info
This is probably Peter Greenaway's most famous (or infamous) film, which first shocked audiences at the 1989 Cannes Film Festival and then on both sides of the Atlantic. A gang leader (Michael Gambon), accompanied by his wife (Helen Mirren) and his associates, entertains himself every night in a fancy French restaurant that he has recently bought. Having tired of her sadistic, boorish husband, the wife finds herself a lover (Alan Howard) and makes love to him in the restaurant's coziest places with the silent permission of the cook (Richard Bohringer). Though less cerebral than Greenaway's other films, featuring deadly passions reminiscent of Jacobean revenge tragedies of the early 17th century, the picture still offers the director's usual ironic and paradoxical comments on the relations between eating and sex, love and death. The film is at once funny and horrific, and those who are not used to Greenaway's peculiar style might be even disgusted or shocked; however, one might mention Sacha Vierny's brilliant camerawork, Jean-Paul Gaultier's gaudily stylized costumes, and Michael Nyman's somber, pulsating music, which will haunt the viewer long after the film's end. ~ Yuri German, Rovi
News & Interviews for The Cook, the Thief, His Wife & Her Lover
Critic Reviews for The Cook, the Thief, His Wife & Her Lover
Audience Reviews for The Cook, the Thief, His Wife & Her Lover
A gorgeous and stylized gem that will prove to be of hard digestion (yes, pun intended) for many viewers, but those with an open mind will find a lot more to it than "just" a magnificent score, cinematography, art direction and costume design (the game of colors is fantastic).
Carlos Magalhães
Super Reviewer
½
Poetic justice never felt quite as satisfyingly disgusting as in this antinomic and mesmerizing fable. the stench of vulgarity and violence pours out from a rich and colorful canvas in bursts of passion, horror and laughter. Anything goes.
Pierluigi Puccini
Super Reviewer
½
At first viewing of Peter Greenaway The Cook, The Thief, His Wife and her Lover I immediately realize that it's a powerful, visual film that uses each scene to really elevate the film's story. This is a blistering drama with some standout performances, and it's in the cast that makes for a truly engaging experience. The film tells a well constructed story that is fairly simple, but is engaging enough to be entertained for two hours. Michael Gambon delivers a performance that is intoxicating, and is a tremendous villain the film. The rest of the cast terrific as well and with that being said, each of them makes a truly unique contribution to Peter Greenaway's blistering and unforgettable tale. In terms of dramatic storytelling, The Cook, The Thief, His Wife and her Lover tells a very good story, added with performances that really stand out, this is a very good film, but not one that is truly remarkable either. The cast make this film work and worth investing your time. Peter Greenaway's direction is dark and atmospheric and it adds so much to the film's story. The climax of the film is great as well, but like I said, it's not perfect, but for the most part, it works simply because of its cast that delivers some standout performances that truly bring out the best out of the film. I really enjoyed the film and I thought that despite a few flaws, this film is worth seeing, and if you enjoy a good story line matched with very good performance, then this film is a definite must watch for genre fans. I really enjoyed Greenaway's style and with that being said, he is able to take a simple idea, and make something truly elaborate in terms of cinematic vision. The film's biggest imperfection is the slow pacing the film, which may displease some, but to those that want a riveting drama, then The Cook, The Thief, his wife and her lover is a very good drama worth seeing despite its limitations.
The Cook, the Thief, His Wife & Her Lover Quotes
| | |
| --- | --- |
| Michael the Lover: | You have beautiful eyes |
| Michael the Lover: | You have beautiful eyes. |
| Michael: | You have beautiful eyes. |
| Albert Spica the Thief: | And you have a beautiful prick, Mr. Gynecologist. |
| Georgina Spica: | And you have a beautiful prick, Mr. Gynecologist. |
| | |
| --- | --- |
| Georgina Spica the Wife: | Georgina to her husband, Albert, "Go on, Albert, Eat." |
| Georgina Spica the Wife: | Georgina to her husband, Albert, 'Go on, Albert, Eat.' |
| | |
| --- | --- |
| Georgina Spica the Wife: | I dont want to eat him Richard. |
| | |
| --- | --- |
| Georgina Spica the Wife: | Yes! He's a man. He's Jewish and he's from Ethiopia! |