Cop Hater
(1958)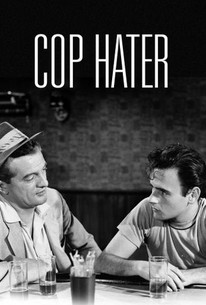 AUDIENCE SCORE
Critic Consensus: No consensus yet.
Movie Info
On a boiling hot night in the middle of a steaming New York summer, Detective Mike Reardon is on his way to work when he is shot down execution style. His fellow officers at the 87th, led by detectives Steve Carelli (Robert Loggia) and Mike Maguire (Gerald S. O'Laughlin), can't come up with a motive. The investigation has barely started when Reardon's young partner Foster is ambushed and gunned down as well. Carelli and Maguire are the lead investigators on the double police homicide, tracing potential suspects and following up clues that all lead to blind alleys. Meanwhile, Miller, a reporter, does some investigating on his own and nearly gets a young detective killed by a street gang led by smart-mouthed punk Joe Sanchez (Jerry Orbach). Amid this chaos, Carelli tries to carry on a romance with a deaf-mute author named Teddy (Ellen Parker) and Maguire attempts not to neglect his wife too badly. Maguire is gunned down by the same shooter that killed the other two detectives, only he makes sure the killer leaves behind a few clues before he dies. Carelli can't make the pieces fit together -- the only thing that the three victims had in common was that they worked in the 87th Precinct and they were all cops. He begins wondering if the fact that they were all police officers was relevant to the killings, but not the motive. Looking for a story, Miller reports Carelli's private suppositions, suddenly putting Teddy in jeopardy. Not knowing that the shooter is a step ahead of him, the detective races to her home. Carelli breaks the case and discovers that only one of the murders had an actual motive, one much closer to home than anyone on the squad would ever have guessed.
Critic Reviews for Cop Hater
Audience Reviews for Cop Hater
½
Most of the air conditioners in the apartments and offices of New York City seem to be stressed to the limit in this movie. Or people don't have them. When they are in the comfort of their homes both men and women must cool off by lounging around in their underwear or swimsuits. Shirley Ballard is particularly sensual. This is pretty similar to the police procedurals we are used to seeing on tv otherwise. Loggia is the main calm and collected detective hero trying to catch a cop killer. His girlfriend is deaf, so the characterizations have a bit of uniqueness.
Byron Brubaker
Super Reviewer
Cop Hater Quotes
There are no approved quotes yet for this movie.