Copenhagen
(2002)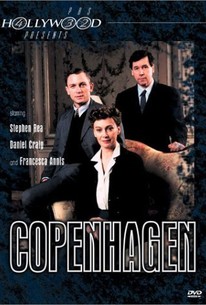 AUDIENCE SCORE
Critic Consensus: No consensus yet.
Movie Info
Adapted from the Tony award-winning play by Michael Frayn, Copenhagen is set in the titular Denmark capitol in the year 1941. According to existing records, it was in that city and year that German physicist Werner Heisenberg and his Danish mentor Neils Bohr met together on the brink of WWII. It will never be known what these two men, so politically divergent yet so much alike in their scientific goals, discussed during that fateful meeting (several attempts to reconstruct their conversation from memory proved both futile and bitterly divisive), though it is a matter of record that both men had discovered the methodology for splitting the atom -- which, of course, was the foundation for the atomic bomb. Frayn's play offers a fanciful yet utterly believable and incredibly witty and charming speculation on the words that might have passed between the idealistic Bohr (played by Stephen Rea) and the pragmatic Heisenberg (Daniel Craig) -- as recalled decades later by the principal characters from the vantage point of the Afterlife. Co-produced by Britain's BBC and U.S. public-TV outlet KCET, Copenhagen was first broadcast as an episode of the PBS Hollywood Presents anthology. ~ Hal Erickson, Rovi
Critic Reviews for Copenhagen
There are no critic reviews yet for Copenhagen. Keep checking Rotten Tomatoes for updates!
Audience Reviews for Copenhagen
½
"Copenhagen" is an intriguing bit of historical speculation inspired by a true story about a visit in March 1941 paid by Werner Heisenberg(Daniel Craig) to his fellow theoretical physicist Niels Bohr(Stephen Rea) and his wife Margrethe(Francesca Annis) in Nazi-occupied Denmark. Once their mentor student relationship was close, but now they are on opposite sides. Heisenberg had a chance to flee his native Germany when Hitler came to power while Bohr is half-Jewish and is deeply worried, though not currently threatened. So, while the two could previously talk freely about physics, now they have to watch what they say, especially as it pertains to the possibility of an atomic weapon. That makes this a possibly crucial moment in time when it could have gone in many different directions and the film cleverly explores this from their present and an afterlife they could scarcely have imagined, in order to assess their respective culpabilities. Not to dampen the fun, but from what I read at an exhibit at the National Museum of Nuclear Science and History in Albuquerque, there were quite a few reasons why the Nazis never developed an atomic weapon, the least of which being that they thought it would be unnecessary since they would win the war so quickly. This is a sentiment that is reflected in Heisenberg's optimism on his arrival in Copenhagen. Getting back to New Mexico for a second, it is weird that in "Breaking Bad" that Walter White(Bryan Cranston) takes the nom du crime of Heisenberg when he is a chemist, not a physicist. On the other hand, I know the names of many more physicists than chemists, so maybe they are just sexier, although not as much as biologists...
Copenhagen Quotes
There are no approved quotes yet for this movie.