Cops And Robbersons
(1994)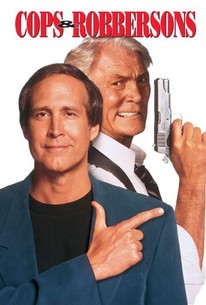 Cops And Robbersons Photos
Movie Info
In order to spy on a suspected criminal, two police officers establish a stakeout in the home of his neighbors, an average suburban family. Their stakeout soon becomes an ordeal, thanks to the interference of the family's bumbling father, a cop-show addict who can't wait to help with the investigation.
News & Interviews for Cops And Robbersons
Critic Reviews for Cops And Robbersons
Audience Reviews for Cops And Robbersons
½
Silly and nonsensical but except for Chevy Chase acting like a total moron for most of the running time not that bad.
This is an underrated comedy that was really entertaining for what it was. I don't believe it deserved the flack it received. This is a fun, mindless comedy that has a pretty good cast. I enjoyed the film for what it was, and I really don't think it deserved the flack it received. This is an underrated film that has some good moments, a pretty interesting plot and decent acting. This is one of Chevy Chase's last good film roles, and he would stop making good comedies in the years to come. This film biggest strength is Jack Palance who gives this film its charm. I really liked him in this one, and thought he made the film as good as it was. If you're looking for a fun, underrated comedy, then check this one out. Quite enjoyable if you're in the mood, and pretty good considering all the negative reviews. This is a good film that has its moments. The actors are good in their roles, and each brings something to the screen. I found this film good for what it was, and is a far better film than what the critics have said about it. This is a good film that is one Chevy Chase's last viewable efforts. Cops And Robbersons is a fun film that you really need to shut off your brain to enjoy. Don't expect a great film, but expect something good, and you won't be disappointed. Don't believe the bad reviews on this one, as this film has plenty of good things going for it.
Chevy Chase plays Norman Robberson, a mild mannered, clumsy father of three living in a suburban neighborhood. Norman brings home a veteran cop, Jake Stone (Jack Palance), and his young assistant, Tony,they want to use the Robbersons home as a stakeout to spy on a mobster hiding out next door. Norman's wife Helen (Dianne Wiest) reluctantly agrees to go along, and the kids see it as a grand adventure~!!!
Cops And Robbersons Quotes
There are no approved quotes yet for this movie.