Coraline
(2009)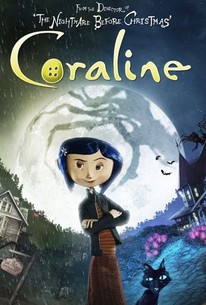 TOMATOMETER
AUDIENCE SCORE
Critic Consensus: With its vivid stop-motion animation combined with Neil Gaiman's imaginative story, Coraline is a film that's both visually stunning and wondrously entertaining.
Movie Info
Coraline Jones is a girl of 11 who is feisty, curious, and adventurous beyond her years. She and her parents have just relocated from Michigan to Oregon. Missing her friends and finding her parents to be distracted by their work, Coraline tries to find some excitement in her new environment. Coraline seriously doubts that her new home can provide anything truly intriguing to her, but it does; she uncovers a secret door in the house. Walking through the door and then venturing through an eerie passageway, she discovers an alternate version of her life and existence.
Critic Reviews for Coraline
Audience Reviews for Coraline
Laika studios has never been known for their large audiences, due to the fact that they are extremely unique in style and will stick strictly to telling an incredible story that hardcore film fans will surely eat up. In 2009, Coraline marked the beginning of this trend, creating unique visual style of filmmaking that had been attempted many times in the past, but never quite perfected as terrifically as this. Sure, they have improved in their stop-motion animation styles over the years with Paranorman, The Boxtrolls, and their most recent outing in Kubo and the Two Strings, but if not for Coraline, this studio would not be where it is today. Over seven years later and this film still holds up as magical and inventive. Following a young girl (Coraline) as she moves into a new home with her family, she discovers a doorway to mirrored world after coming across a doll that had been made to look like her. In this other world, she has the same friends, family, and home as in her reality, but everything seems to be perfect. No hardships or troubles, until one day when she must stay on that side or find a way out. The way this studio displays their animation style is nothing short of brilliant. In a way, this film is one big metaphor for how they are able to transport viewers into an entirely new way of viewing cinema. This studio is unlike any other out there today and I look forward to every one of their projects to come. This film is best viewed during the month of October, due to its eerie feel and Halloween-ish tones. This begs the question of whether or not it will be too scary for children, being an animation film and all. Luckily, Coraline is just the right blend of kid-friendly and mature. There is something here for all ages. Having a child protagonist definitely helps stretch the target audience, but this film is made for film fans first, without question. This story may have a few elements that are a little hard for younger audiences to follow, but travelling back and forth through worlds will easily be enough to keep them engaged. Whether a film is live-action, computer animated, or filmed entirely with stop-motion, audiences have come to expect a certain basic look in order to feel like they are watching art. Coraline is the exactly definition of a film that takes risks and strays from that formula quite a bit. Having dutch angles, vertigo shots, and slow push-ins, this film displays itself as an animated film that can accomplish any kind of shot it wants, due to the fact that it is animated. That being said, it is all shot through photography and miniature sets, which makes it that much more impressive. Once you get past the awe that everything you are seeing is actually real, Coraline does not hesitate to transport you into its gloriously beautiful world. From the amazingly gorgeous score, to the incredibly realistic visuals, to the intriguing story from start to finish, Coraline is a revelation of an animated film. Gleaming with imagination from beginning to end, this film never fails to surprise its viewers. Emotionally strong when it needs to be without going too far over-the-top, while still remaining fun enough to keep kids more entertained then freaked out, Coraline is a display of animated perfection. Seven years after its initial release and I could not be happier with how much this film is able to hold itself up. It will very quickly become a classic in about ten years from now, if it hasn't already. I love every second of this film.
A horror story for kids, taking elements from many classic kids tales, about a girl who finds a secret doorway to another world in her new house where a witch tries to capture her and her parents but the brave girl fights back. Great 3D animation and well produced by the director of James and Giant Peach: this could almost be another Roald Dahl story.
Ross Collins
Super Reviewer
½
Very much like Neil Gaiman's book of the same name, "Nightmare" director Henry Selick imagines a world that is black, bewildering, and ghoulish. Drawing on our worst fears, and the intensity of childhood wonder, the film follows Coraline, a little girl who moves into a new apartment with her parents, and finds her new world wanting. Faced with a parallel universe and a ghastly villain named "Other Mother" Coraline must put on a brave face and end the monster's reign. Completely filmed in stop-motion animation, the world is even more beautiful and ghastly than it ever could have been in another medium. The characters are just as bodacious as the book, there's the same level of terror as in the original text, and there's a sense that Coraline is the only one who can save the day, even though she is a child. It's adventurous and dark, which more children's films should aspire to be.
Spencer S.
Super Reviewer
Coraline Quotes
| | |
| --- | --- |
| Toy: | what's shakn' baby |
| Toy: | What's shakn' baby. |
| | |
| --- | --- |
| Coraline Jones: | (about other mother) EVIL WITCH, I'M NOT SCARED!!! |
| Coraline Jones: | [about other mother] EVIL WITCH, I'M NOT SCARED! |
| | |
| --- | --- |
| Mel Coraline's Mother/Other Mother: | You know... I love you... |
| Coraline Jones: | You have a very funny way of showing it. |
| | |
| --- | --- |
| Coraline Jones: | You're not my mother! |