Coriolanus
(1984)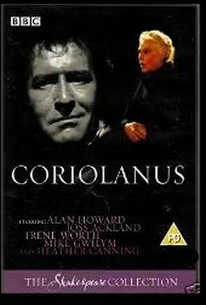 AUDIENCE SCORE
Critic Consensus: No consensus yet.
Movie Info
Director Elijah Moshinski's 1984 BBC adaptation of Coriolanus presents themes that remain highly relevant today: the excessive arrogance of the privileged classes, the failure of leaders to heed the will of the citizenry, and the tendency of people to prize social standing above compassion, humility, and other qualities. The play, which generally features strong acting, begins at a time of famine in Rome. When the citizens blame the rulers for the shortage of food, the patrician warrior Caius Martius (Alan Howard), later to be known as Coriolanus, criticizes them as a drain on the public trough and threatens to wield his sword against them. However, the Senate throws the people a political crumb: They may select five tribunes to represent them. The concession angers Martius. However, his attention quickly shifts to new villains when he learns an Italian tribe known as the Volscians plans an attack on Rome. It is wonderful news to Martius. As a soldier, he likes nothing better than a good war to test his talents. It is good news, too, for his mother, Volumnia (Irene Worth). She reared her son to be a stalwart soldier who brings honor and glory to himself and his family. While Marcius is at war, his wife Virgilia (Joanna McCallum) -- a delicate creature -- sits home and frets for his safety. But not to worry. Marcius defeats the Volscians at the city of Corioli, distinguishing himself in battle with great feats of valor. His troops then dub him "Coriolanus," meaning "conqueror of Corioli," and he returns home in triumph. The senate then nominates him to be consul and the people vote him in. However, two tribunes -- Sicinius (John Burgess) and Brutus (Anthony Pedley) -- persuade the citizens that they have made a bad choice, claiming that as a proud patrician Coriolanus does not have the people's interest at heart. So the fickle mob recants its vote and sides with the tribunes. Coriolanus then condemns the mob and draws his sword against the tribunes. Friends of Coriolanus intervene and propose a peace-making session at the Forum. Reluctantly, Coriolanus agrees to attend the meeting. However, at the meeting, the troublemaking tribunes renew their verbal attacks, and Coriolanus loses his temper and is banished from Rome. To avenge himself against the city, he joins the Volscians to fight with them in a new attack on Rome. ~ Mike Cummings, Rovi
Critic Reviews for Coriolanus
There are no critic reviews yet for Coriolanus. Keep checking Rotten Tomatoes for updates!
Audience Reviews for Coriolanus
I definitely did like this. . . . Shakespeare's final "tragedy." Hmmm . . .
Okay, let me say this. The label "tragedy" is thrown around an awful lot. For instance, I'll bet one dollar that in years to come there are going to be people who call Bu--sh-- Jr's presidency a tragic one. Now depending on who's doing the talking, this is true. Tragic for us; not tragic for him. If someone eventually sees Jr's administration as a personal tragedy for him -- and believe me someone will -- well, I will laugh -- and then spit on the ground.
In order to qualify as a tragic hero in my book, you damn well better be someone with whom I can sympathize.
In the case of this particular production of Coriolanus, I have great difficulty finding anything about the titular character that makes me even remotely want to feel anything but a mild contempt, at best, for his plight. To pull an old chestnut from the feeble fire of memory: This is a guy who needs killing, and the sooner the better. He is surely no Macbeth, neither is he a Hamlet nor anywhere remotely near an Othello or a Juliet. Coriolanus is a justly heralded soldier, true, but what kind of human being is he? Well he is tragically vain all right, a qualifying tragic flaw, but he is additionally loaded with contempt for the common people, and he's a borderline horrible son, husband, and father to boot. I mean, who cares? I see him more as an oxygen waster than as someone who's actually contributing to the good of humankind. But that's just me.
Lanning : )
Super Reviewer
Coriolanus Quotes
There are no approved quotes yet for this movie.