Coriolanus
(2011)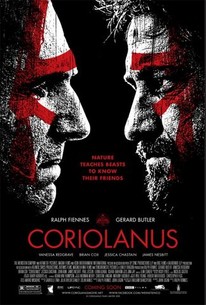 TOMATOMETER
AUDIENCE SCORE
Critic Consensus: Visceral and visually striking, Ralph Fiennes' Coriolanus proves Shakespeare can still be both electrifying and relevant in a modern context.
Movie Info
Caius Martius 'Coriolanus' (Ralph Fiennes), a revered and feared Roman General is at odds with the city of Rome and his fellow citizens. Pushed by his controlling and ambitious mother Volumnia (Vanessa Redgrave) to seek the exalted and powerful position of Consul, he is loath to ingratiate himself with the masses whose votes he needs in order to secure the office. When the public refuses to support him, Coriolanus's anger prompts a riot that culminates in his expulsion from Rome. The banished hero then allies himself with his sworn enemy Tullus Aufidius (Gerard Butler) to take his revenge on the city. -- (C) Weinstein Co
Critic Reviews for Coriolanus
Audience Reviews for Coriolanus
Fiennes gives an explosive performance however the movie leaves a bitter taste. Modern day view of a Shakespearean play which i felt didn't really work. Visually stunning but fails where it actually matters.
Film Crazy
Super Reviewer
An anti-democratic Roman general battles a rival general and later creates a public relations nightmare. It's been almost two decades since I've seen or read Shakespeare's Coriolanus, so it's difficult to remember how the film compares to the original material. What I can say is that I got more out of the film than I remember getting out of the play. Ralph Fiennes's direction is flawless. In Coriolanus he creates a film first and a Shakespeare film second. With short scenes, long establishing shots, and pregnant pauses between conversations and monologues, Fiennes uses all the techniques germane to film and relies on the rich text when its most needed; his balance of film and Shakespeare's words is better than most other adaptations. Fiennes's vision of Coriolanus fits our time and politics. Martius's open contempt of the proletariat contrasts with the successful patricians who, sharing his contempt, lie to the people to ingratiate themselves. Thus, Coriolanus becomes about how people in power manipulate the masses. Fiennes gives a masterful performance, at times gritty and murderous and at other times vulnerable and weepy. Gerard Butler keeps up, and that's the best I can say while seasoned veteran Vanessa Redgrave hits her role out of the park as one of the most bad-ass Shakespearean mothers. Overall, Coriolanus is a tour de force for Ralph Fiennes, a too-often underrated actor and director.
Jim Hunter
Super Reviewer
Nature Teaches Beasts to Know Their Friends Decent Shakesperian based movie! Shakespeare's dramas may well be set up in a contemporary set, because the content is timeless. Here the screenplay drama is performed in its original text. The old lines sometimes are in conflict with the modern outfit, but you are quickly caught back to the drama by the violent intrigues and you become strongly affected by the deep conflicts between power and love. The war scenes are realistic and bloody. It is exciting and the outcome uncertain for the uninitiated. Ralph Fiennes both directs and plays the title role and succeeds well. He has got a star team both in front and behind the camera. The film photo by Barry Ackroyd is brilliant. The set and costumes are next to perfection. The 74-year-old Vanessa Redgrave portrays Coriolanus' mother, Volumnia, powerful and convincing. Gerard Butler as the rebel leader acts with strong charisma and realism. Additional casting is also very good. Coriolanus is a tense and violent political wartime thriller which makes Shakespeare not only accessible but utterly captivating. A credible directorial debut from one of the industry's finest working actors. The citizens of Rome are hungry. Coriolanus, the hero of Rome, a great soldier and a man of inflexible self-belief despises the people. His extreme views ignite a mass riot. Rome is bloody. Manipulated and out-maneuvered by politicians and even his own mother Volumnia, Coriolanus is banished from Rome. He offers his life or his services to his sworn enemy Tullus Aufidius.
Coriolanus Quotes
| | |
| --- | --- |
| Tullus Aufidius: | I think he'll be to Rome as is the osprey to the fish, who takes it by sovereignty of nature. |
| | |
| --- | --- |
| Tribune Brutus: | "Nature teaches beasts to know their friends" |
| Tribune Brutus: | Nature teaches beasts to know their friends. |
| | |
| --- | --- |
| Tribune Brutus: | Anger's my meat; I sup upon myself, And so shall starve with feeding |
| Tribune Brutus: | Anger's my meat; I sup upon myself, and so shall starve with feeding. |
| Volumnia: | Anger's my meat; I sup upon myself, and so shall starve with feeding. |
| | |
| --- | --- |
| Caius Martius 'Coriolanus': | O, a kiss long as my exile, sweet as my revenge! |