Corky Romano
(2001)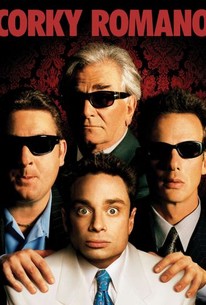 TOMATOMETER
AUDIENCE SCORE
Critic Consensus: Corky Romano continues the trend of bad movies featuring SNL members. The jokes are tired and unfunny, and the slapstick feels forced.
Movie Info
Saturday Night Live cast member Chris Kattan stars in this mob comedy as Corky Romano, a veterinarian with a penchant for pop music from the '80s. As a youth, Corky was kicked out of his Mafia-connected family for being an oddball. Now his long-lost father (Peter Falk) has been indicted and needs Corky to infiltrate the FBI and steal the government's evidence against him. Corky is willing to aid the relatives who so long ago turned their backs on him, but his brothers go overboard when intimidating the computer hacker who gets Corky's bogus application into the FBI academy, presenting him as a super agent named Pissant. Now Corky must live up to his reputation for an eminently qualified top cop while simultaneously trying to get the goods on his dad. Corky Romano co-stars Peter Berg, Chris Penn, Vincent Pastore, Vinessa Shaw, Fred Ward, and Richard Roundtree.
News & Interviews for Corky Romano
Critic Reviews for Corky Romano
Audience Reviews for Corky Romano
An unfunny "comedy" movie.
Lucas Martins
Super Reviewer
In terms of a bad comedy, Corky Romano is one of the worst films that you can watch. Poorly written acted and directed, this is one of those films that never should have been made in the first place. This is a film that is stupid, so bad that you cannot believe your eyes. This film is definitely not worth your time, and if you're looking for something good here, you won't find it. This is a failure as a comedy, one that is definitely not funny, but more stupid. There is nothing funny here, and the comedy is horrible. Corky Romano has an awful cast that really don't know how to create effectively funny material. The film just isn't interesting or fun to watch. I found it dull and boring and a total waste of time. If you're looking for something funny, you'll only find bad gags that are poorly executed. This is a bad film with a bad lead actor that has always delivered a mediocre performance. Chris Kattan is a horrible comic, and can't act whatsoever. I think that this is one of the worst comedies that I have seen in quite some time and it just doesn't work because the script is so poorly constructed that it makes you wonder how they succeeded in making this film. The film awful, not worth the time to watch and the cast are bad here. They simply don't have what it takes to deliver the laughs. Corky Romano is one of the most uninspired comedies that I've seen, and it just fails from start to finish.
i seriously dont know why i own this movie
Coxxie Mild Sauce
Super Reviewer
Corky Romano Quotes
| | |
| --- | --- |
| Peter Romano: | Paulie, come on already. |
| Paulie Romano: | Shut up! |
| | |
| --- | --- |
| Corky Romano: | I should buy a boat!!!!!!!!! |
| Corky Romano: | I should buy a boat! |
| | |
| --- | --- |
| Brick Davis: | what? I can't call you Howard because I'm not part of the 'groovy tie squad?' |
| Brick Davis: | What? I can't call you Howard because I'm not part of the Groovy Tie Squad? |
| | |
| --- | --- |
| Corky Romano: | "Bad dogs aren't born...they're made" |