Corman's World: Exploits Of A Hollywood Rebel
(2011)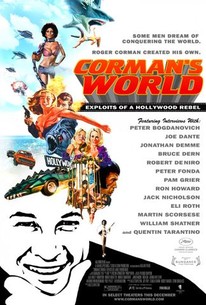 Corman's World: Exploits Of A Hollywood Rebel Photos
Movie Info
Blue jeans, sock-hops and drive-in movies: the Fifties were America's age of innocence. But stalking the depths of its post-nuclear bliss, mass paranoia became fuel for Joseph McCarthy's brand of Red Scare terror propaganda. Bomb shelters were a deluxe feature in every American home, government-sponsored educational reels promised an imminent nuclear threat from across the Atlantic, and Hollywood, Babylon of the western world, hung on the brink of collapse. It was here, in the last-ditch machinations of a dying juggernaut, that a mild-mannered, civil engineer's son would become the most influential force in modern moviemaking. Corman's World tracks the triumphant rise of Hollywood's most prolific writer-director-producer, the true godfather of independent filmmaking. -- (C) Official Site
News & Interviews for Corman's World: Exploits Of A Hollywood Rebel
Critic Reviews for Corman's World: Exploits Of A Hollywood Rebel
Audience Reviews for Corman's World: Exploits Of A Hollywood Rebel
Roger Corman is the king of low budget cinema. He is responsible for exposing film fans to many of the industry's most legendary names such as Martin Scorsese, Robert De Niro, Jack Nicholson and Ron Howard. This is a must see documentary for cinema fans, even if you're not a fan of Corman's, just give it a shot because I think he's one of the most important figure in cinema. The film features great interview with the actors that have worked with him, directors that he's helped across the way and other directors that have been influenced by Corman's work. This is a well crafted documentary that is among the finest that I've seen in quite some time. The film takes a look at his cinematic legacy and his unique style in entertaining audiences. His films are a wonderful and his knack to entertain viewers is something special. As a fan of his work, I really enjoyed the film, and I think anyone that is interested in a forgotten part of film history might so too. The film is very entertaining and insightful and will definitely enjoy this documentary. If you enjoy documentaries, this is one worth seeing. The subject is very interesting, and is one that deserves more exposure. Over the course of his career, Roger Corman has made over 400 films ranging from a variety of genres. He is able to thrill audiences looking for something ridiculous and fun, with barely any budgets for his pictures. He is one of the few in the industry that understands that you can pull off something really good with some basic ideas. He also exposed us and launched the careers of some film legends, if you really want to watch a well made documentary about a great film icon, then this is for you.
I'm so glad a documentary like this exists. It perfectly represents the brilliance of Corman's passion, in that he never gives up and makes movies for the sheer joy of it. By tackling films with low budgets, he always comes out on top. Best of all, his films were the starting blocks for many huge talents such as Jack Nicholson. When Nicholson talks, you feel nothing but love and respect, when he breaks down into tears it's truly an open and beautiful moment of a man who usually keeps his cool. In other areas we get anecdotes of just how cheaply Corman makes his movies and how he has inspired many directors since. Most interesting of all is when it talks about Corman's more serious projects such as The Intruder. It is certainly a celebration of Corman and his finest achievements, though I wish it had gone into more detail as to why he hasn't directed in over 20 years, and covered more of his recent outputs as producer. You have to see this if you love film, and you'll certainly have plenty to stick on your watchlist.
Luke Baldock
Super Reviewer
½
Entertaining and informative. I loved all the clips from Corman's works, yet he is so prolific that this still only scratches the surface. It is interesting that the makers of this doc included quotes from those who have worked with Corman saying that the Academy doesn't award the sort of movies he makes (even though they are extremely popular) and then during the making of this doc Corman was honored with the lifetime achievement Oscar in 2009. The man has had a major influence in giving so many actors, writers and directors their start in Hollywood. It is obvious that all the stars who speak about their start in Corman's pictures love him. In a surprisingly heartfelt moment Jack Nicholson is even brought to tears. Corman has produced independently for decades, distributed several foreign language Oscar winners, and had to reinvent his company a number of times when drive-ins began disappearing, home video took over the market, and big budget blockbusters stole the type of genre flicks in which he used to specialize. Important for getting a fuller view of filmmaking history!
Byron Brubaker
Super Reviewer
Corman's World: Exploits Of A Hollywood Rebel Quotes
| | |
| --- | --- |
| Ron Howard: | After Grand Theft Auto premiered on television Roger said to me "This makes your 7.5% look really good. And my 92.5% look damn wonderful! |
| Ron Howard: | After Grand Theft Auto premiered on television Roger said to me 'This makes your 7.5% look really good. And my 92.5% look damn wonderful!' |