Tim Burton's Corpse Bride
(2005)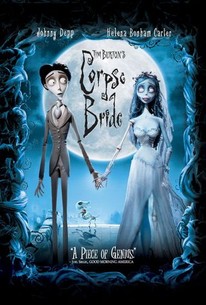 TOMATOMETER
AUDIENCE SCORE
Critic Consensus: As can be expected from a Tim Burton movie, Corpse Bride is whimsically macabre, visually imaginative, and emotionally bittersweet.
Tim Burton's Corpse Bride Photos
Movie Info
Tim Burton returns to the dark but fanciful animated style of The Nightmare Before Christmas with this stop-motion black comedy. Victor (voice of Johnny Depp) lives in a small European village in the 19th century, where he is pledged to marry Victoria (voice of Emily Watson), a partnership arranged by their parents. The two only meet the day before their scheduled nuptials, and Victor performs disastrously in the wedding rehearsal. Later that evening, while he is walking through the woods and hopelessly practicing his vows, he puts Victoria's wedding band on what looks like a branch. Victor quickly discovers this was a big mistake; as it happens, he has put the ring on the skeletal finger of the enchanted Corpse Bride (voice of Helena Bonham Carter), who then whisks him off to a dark and mysterious netherworld where they are now married. Victor is frightened in the land of the dead, and even realizes that he has fallen in love with his true fiancée, Victoria, so he searches for a way back to his own world. Directed by Tim Burton in collaboration with animator Mike Johnson, Corpse Bride features a stellar voice cast, including Albert Finney, Christopher Lee, Richard E. Grant, Joanna Lumley, and Danny Elfman (who also composed the film's musical score). ~ Mark Deming, Rovi
News & Interviews for Tim Burton's Corpse Bride
Critic Reviews for Tim Burton's Corpse Bride
Audience Reviews for Tim Burton's Corpse Bride
Burton is a master when it comes to doing films that involve stop motion, such as his short story Vincent, which would've been on here except its just a short film but not a theatrical released film. Anyway, Corpse Bride has some spectacular visuals, characters, and songs, Danny Elfman does his usual great job as the composer for this film, and for the voice of Bonejangles, and all the other actors do fantastic jobs, Johnny Depp, Helena Bonham Carter, Joanna Lumley, Emily Watson, Christopher Lee, Michael Gough, they all do fantastic jobs and for a film only 72 minutes, it does a good job at pacing and telling its story.
Michael Edwards
Super Reviewer
½
Made-for-Halloween movie with weak plot and many slow moments but at least provides a great and easy new costume option for women haha.
Letitia Lew
Super Reviewer
Over ten years ago marked the release of Tim Burton's Corpse Bride, and while many people rank it among his absolute best films, I am here to discuss why I believe it falls nicely in the middle. When it comes to Tim Burton films, they can be very hit or miss for me. From amazing films like Edward Scissorhands or Ed Wood, to downright awful productions in either 2001's Planet of the Apes or the luke-warm reboot in Charlie and the Chocolate Factory. Some fans go crazy when he announces a new film, but I have had to see for myself upon every one of his releases. He is a very talented director that decides to go a little too bizarre at times. That being said, Corpse Bride was, and still remains one of his greats. Following Victor, an introverted groom-to-be, as he practices his vows on the night before he is to be married, he accidentally practices on a rotting corpse in the woods. Thinking she is his wife, the corpse rises from her grave and begins to act as though they are married, thus upsetting his bride-to-be. This premise is original in every sense of the word, even by standards set by many of Burton's films of the past. Exploring stop-motion animation through Laika studios before they became as well known as they are today, this technology was masterful for its time and has only improved with age. There is absolutely nothing ordinary about this delightfully whimsical animated film. With films like Charlie and the Chocolate Factory or Alice in Wonderland, Tim Burton has proven that he may go a little too far when it comes to crazy visuals, but then again, people love having his stamp on certain projects. For me, when you stylize your film it becomes your own, but there is only so much you can do before it becomes a cluster of visuals, set in motion by a director who cannot control him or herself. Corpse Bride teeters on the edge of being a little too "Tim Burtony" (for lack of a better term) in my opinion. From its dark tone, to its voice cast, to its bizarre narrative style, everything about this picture screams Burton. In my opinion, it does slightly harm the overall film. While I do not believe a director should hold back on their vision of a film, there does come a time when style over substance takes away from the core story. Corpse Bride does go all out in a few scenes and I found myself enjoying the visuals more than what had been happening in certain scenes. That being said, the story is loveable enough to distract you from becoming too distracted. An auteur filmmaker can do whatever he/she pleases, but over the years, the love for Tim Burton has definitely got into his head. He has become a little full of himself and I believe this film was his last truly great film. I always believe that a director should follow their vision, but when it may become a little much for some audience members to handle and you plan on making it a wide release, maybe a few considerations should be taken into account. Johnny Depp and Helena Bonham Carter are terrifically cast as the voices of these characters, matching their mannerisms in almost every conceivable way. The characters are really what sell this film for me. Even though they are clay figures places into a stop-motion film, I believed this story was possible, in some sort of alternate reality. This is a very well-made film with an intriguing screenplay from start to finish, filled with inventive sequences and a perfect conclusion to this simple, yet clever little story. Corpse Bride may not be one of my favourite films by Tim Burton, but it is certainly a great one. Highly recommended for Burton fans who have yet to see it.
Tim Burton's Corpse Bride Quotes
| | |
| --- | --- |
| Corpse Bride: | Pardon my enthusiasm. |
| Victor Van Dort: | I like your enthusiasm. |
| | |
| --- | --- |
| Barkis Bittern: | I was betrothed, once along time ago but tragedy bestowed my love. |
| | |
| --- | --- |
| Finis Everglot: | Everything will go as planned she will marry |
| Finis Everglot: | Everything will go as planned she will marry. |
| | |
| --- | --- |
| Victoria Everglot: | No i'm telling the truth. Victor needs my help. |