Corruption
(1968)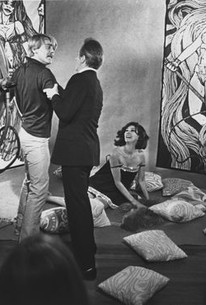 Movie Info
Sir John Rowan (Peter Cushing), a prominent surgeon, meets and falls in love with twenty-something fashion model Lynn Nolan (Sue Lloyd). Despite the difference in their lives and ages -- he a respected medical professional in his fifties, she the toast of Carnaby Street, running in a circle of poseurs, pretenders, and people famous for being famous -- he is madly in love with her, "madly" being the operant word here. His jealousy leads to a fight at a photo shoot, which results in Lynn's disfigurement. Driven by combination of guilt and love, Rowan violates medical protocols with a procedure, involving the transplant of tissue and pituitary secretions from a female cadaver -- that restores Lynn's beauty, and rescues their romance. But it turns out that his success is only temporary, and soon her face is deteriorating, requiring another operation -- only this time, without a cadaver available, Rowan must secure a "donor" himself. He chooses a prostitute, whom he kills and decapitates, rationalizing her death to himself rather unconvincingly. Oblivious to the terrible cost of her surgery, Lynn is relieved to see her beauty restored. But Rowan is unhinged by the murder he has committed, and fearful that the police will eventually trace it back to him. And his colleague Dr. Steve Harris (Noel Traverthen), who is engaged to Lynn's sister (Kate O'Mara), is becoming suspicious over Rowan's furtiveness about his achievement -- if his success with Lynn is half what it seems to be, why does he seem to be in no hurry to publish an account of his procedure and its results? The couple finally decide to go off on holiday to a seaside cottage and forget their worries -- until her face starts to show signs of deterioration. Now they need a new "donor," and first attempt to entice a young girl (Wendy Varnals) they meet at the beach back to their home. But complications ensue, first because Rowan doesn't want to commit another murder, and then because this girl isn't what she seems, and disappears -- soon the doctor has to look for yet another victim, whom he find on a train. And then their home is invaded by the gang of hippie/thieves led there by the girl. And little does anyone, including Rowan, realize that Lynn has gradually gone even crazier than her doctor/fiance.
Critic Reviews for Corruption
Audience Reviews for Corruption
½
A decent variation on the "Eyes Without a Face" plot, but the "home invasion" conclusion seriously cheapens the film. The boisterous jazz score is grossly inappropriate at times, but it's weirdly intriguing to see Peter Cushing run (and run quite well for someone of his age) during one scene.
Eric Broome
Super Reviewer
½
I'm kind of shocked to log on to Flixster and not see more people being chatty about this little thriller. To be fair, it is largely unseen by US audiences, even with it being screened on TCM (which is how I got to see it). Corruption (AKA Carnage, The Laser Killer) is a late 1960's thriller starring Peter Cushing and Sue Lloyd (both of whom give terrific performances) about a doctor who must murder in order to get the body parts needed in order to keep his wife's face beautiful. Vanity, greed and insecurity are on the plate for this particular movie that doesn't quite hit its mark. It's true that the film is very much a British take on Eyes Without a Face, but like many imitators of that film, it isn't quite as good. By the end of the film it loses its narrative focus and just goes completely bonkers. On the other hand, it's a pretty well-made film. I especially like the scenes when the "thriller" music (nothing more than over-the-top swinging 60's jazz) is muted by the flick of a light switch or the closing of a refrigerator door. But the music is horribly out of place, and I'd like to think that a lot of the scenes could've used silence in the background for tension, but that's just me. In the end, it's a mess of a film that winds up being entertaining anyways. It's definitely not perfect, but check it out sometime if you can find a copy. Peter Cushing's and Sue Lloyd's manic performances are reason enough to check out. Of course, how can you not check out a film that has Peter Cushing in it?!
Tim Salmons
Super Reviewer
Corruption Quotes
There are no approved quotes yet for this movie.