The Corruptor
(1998)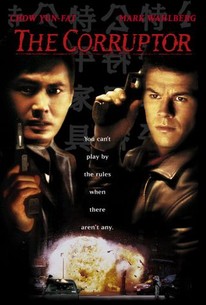 Movie Info
Nick Chen (Chow Yun-Fat) was the first Chinese-born immigrant in the NYPD, and is now one of the force's most decorated officers. As such, he's been named leader of the city's Asian Gang Unit, who are the primary peacekeepers in Chinatown. Trouble has just arrived for the Triads, the long-entrenched Chinese gangsters who are the real power behind Chinatown. After years of posing as honest businessmen, the Triad's powers are threatened by the newly arrived Fukienese Dragons. With a gang war on the horizon, the city sends a new recruit, Danny Wallace (Mark Wahlberg), to join Chen's unit. Danny finds Chen and the AGU in a very comfortable (perhaps too comfortable) relationship with the Triads. When the mobsters attempt to corrupt Danny, Chen must reassess his relationship with the Triads, and Danny must also learn that certain concessions must be made to ensure the peace in this world set apart from the rest of New York. ~ Ron Wells, Rovi
News & Interviews for The Corruptor
Critic Reviews for The Corruptor
Audience Reviews for The Corruptor
An explosive crime thriller. A gritty, stylish, gripping, unpredictable and unforgettable movie thrill-ride. Searing suspense and non-stop action fuel this outstanding and heart-pounding adrenaline-rush. An awesome movie. It's Serpico meets Hard-Boiled. Chow Yun-fat and Mark Wahlberg give powerful, emotionally complex and sensational performances. It's shocking, riveting and exhilarating all the way to it's devastating conclusion. This is James Foley's finest film. A full-throttle action-packed flick that delivers pure explosive energy
½
Insipid and forgettable attempt to imitate Hong Kong cime flicks.
Tsubaki Sanjuro
Super Reviewer
Another of Chow Yun Fat's decent but unspectacular early forays into Hollywood, it has a nice gritty feel and an interesting culture clash backdrop. Not up to the standard of his HK films, but a creditable cop thriller.
The Corruptor Quotes
There are no approved quotes yet for this movie.