Corvette Summer
(1978)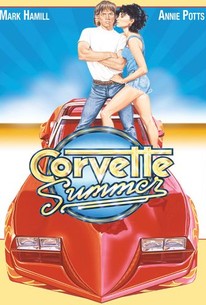 Movie Info
The Corvette Ken Dantley's (Mark Hamill) class has been restoring in their high-school shop class is nearly completely fixed up. One day, the students walk in and it is gone - apparently stolen. Ken is larking about in Las Vegas when he spies a car that looks suspiciously like the Corvette he knows so well. He begins looking for the car, but in the meantime Vanessa (Annie Potts), propositions him on the street. Intrigued, he follows the girl back to her van, which is equipped with a waterbed. She hopes to use the van as a travelling brothel, with herself as the bill of fare. Instead, she helps him look for the missing car, and as they search, the two of them fall in love. Though praised by critics, Mark Hamill's second starring feature did poorly at the box-office, and stalled his career. Corvette Summer marks the first star appearance by Annie Potts, perhaps better known for her role in the U.S. television show Designing Women.
Critic Reviews for Corvette Summer
Audience Reviews for Corvette Summer
½
I really enjoyed this movie, mostly because it stars two of my favourite actors, but it is also a fun comedy adventure about Hamil's character trying to get his car back.
½
This lighter than helium comedy was Mark Hamill's follow up to Star Wars. A high school grease monkey rebuilds, and tricks out, an old heap of a Corvette Stingray. While showing it off around town with his auto shop classmates, the car is stolen. Hamill goes in search of it, with the help of on-the-go call girl Annie Potts, eventually tracking the car to Las Vegas. That's about all the story there is. It's an utterly forgettable movie, but it's also a good natured romp that showcases Hamill when his career still lay in front of him. He and Potts have a believable chemistry, and they both make for likeable characters that are easy to root for. Released only about 6 months after Star Wars, Hamill still had the boyish zeal working for him that served him well in creating Luke Skywalker. Movies don't get much more lightweight than this, and I remember as a kid, only wanting to watch it because it had Luke Skywalker. But it still holds a certain level of charm, is firmly stuck in the 70's, and makes for a nice little 90 minute nostalgia trip, back to a time when I demanded much less from movies. Good performances, easy laughs, and even a couple of really good car chases. Hey...other actors have fared much worse in follow ups to their breakthrough movies.
RJ MacReady
Super Reviewer
Corvette Summer Quotes
There are no approved quotes yet for this movie.