Cosmopolis
(2012)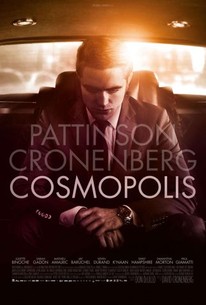 TOMATOMETER
AUDIENCE SCORE
Critic Consensus: Though some may find it cold and didactic, Cosmopolis benefits from David Cronenberg's precise direction, resulting in a psychologically complex adaptation of Don DeLillo's novel.
Movie Info
New York City, not-too-distant-future: Eric Packer, a 28 year-old finance golden boy dreaming of living in a civilization ahead of this one, watches a dark shadow cast over the firmament of the Wall Street galaxy, of which he is the uncontested king. As he is chauffeured across midtown Manhattan to get a haircut at his father's old barber, his anxious eyes are glued to the yuan's exchange rate: it is mounting against all expectations, destroying Eric's bet against it. Eric Packer is losing his empire with every tick of the clock. Meanwhile, an eruption of wild activity unfolds in the city's streets. Petrified as the threats of the real world infringe upon his cloud of virtual convictions, his paranoia intensifies during the course of his 24-hour cross-town odyssey. Packer starts to piece together clues that lead him to a most terrifying secret: his imminent assassination. -- (C) Official Site
News & Interviews for Cosmopolis
Critic Reviews for Cosmopolis
Audience Reviews for Cosmopolis
A young financial genius is intent on taking his limo across Manhattan to get a haircut from his father's old barber, despite the fact that the streets are gridlocked due to a Presidential visit, "occupy Wall Street"-type protestors are rioting, and there is a credible death threat against him. It's a talky, symbolic and obliquely philosophical movie, for sure, and it will turn most viewers off; but, in its confused way it does reflect our current psychology of income gap anger and financial apocalypse anxiety.
½
Adapted from a work by Don DeLillo, this is a story set in near-distant future New York about Eric Packer- a 28 year-old billionaire currency speculator/asset manager who callously watches his world crumble before him during a 24 hour odyssey as he slowly cruises across town in his limo on his way to get a haircut. His limo is tricked out and state-of-the-art. It's basically his own little microcosm he seals himself in to avoid the dregs of society outside. The story is rather surreal in tone, and feels otherworldly. Oddly though, it feels timely too, as some of the stuff Eric encounters parallel real world events. It seems odd that it would take him all day to get to his preferred barber, but the traffic jams he's caught in are the result of a presidential visit, the funeral procession of his favorite musician ( a Sufi rap artist), and anti-capitalist demonstrations by an Occupy-style group. Along the way, besides encountering said traffic slowing obstacles, Eric also conducts business in his limo, including trysts with a few women, a meeting with his new, albeit frigid and bored wife, meetings with co-workers and, a prostate exam with odd results. He also sees his business dealings falter, and learns someone is apparently out to assassinate him. This is all very troubling stuff, but he seems to be rather uncaring, if not welcoming of this ruin. The film concludes with a lengthy confrontation with the apparent assassin, highlighted by a very lengthy philosophical discussion. This seems like pretty perfect material for writer/director David Cronenberg. It's odd, thought provoking, and a real head trip at times. Unfortunately, it's also largely dull, if not really boring, ends anti-anticlimactically, and feels really under cooked, which makes sense given that Cronenberg wrote the script in like 6 days. It at least is shot well, looks great, and tries to do something meaningful, even if it falls short. I applaud Robert Pattinson for trying something different and ambitious, but I don't think this'll quite help him shed the long shadow cast by Twilight. He's backed by some interesting supporting players like Jay Baruchel, Mathieu Amalric, Samantha Morton, Juliette Binoche, and Paul Giamatti, but none of them really do anything spectacular or groundbreaking. I wanted to like this. It seemed like it would be really intense and gripping, and, while it does have its moments, it goes on for way too long, and proves to be largely 'meh' more than anything else.
Chris Weber
Super Reviewer
Elise Shifrin: Where is your office? What do you do exactly? You know things, I think this is what you do. I think you acquire information and turn it into something awful. I would have to say that enjoying this movie depends completely on your ability to understand Robert Pattinson's character. If you can't, it's going to be hard to like this film. Cosmopolis is a movie of immense potential and incredible setup. What it lacks in though are the things that make movies easy to watch and get into. I was fully engaged the whole film because the thin plot had a lot of great ideas and philosophical meanings behind them, but it was missing everything from dialogue that sounded real to actors that seemed real. The only saving grace as far as acting goes was Paul Giamatti's scene at the end of the movie. Everyone else was dull and boring, as was the dialogue that was coming from their mouths.  Cosmopolis follows a rich, young man who we assume works on Wall Street. The economy is beginning to collapse and all around the city are protestors who want blood. They want Eric Packers blood too. He is constantly being updated by his bodyguard of the impending situation. Eric doesn't seem at all fazed by it though, as he drifts around the city in his limousine, talking with other people, and just trying to make it to get his haircut. Like I said, the plot is thin. There's not much in the way of action either, as it is mostly weird, dull dialogue.  Cronenberg is still one of those directors that I fail to understand. As with Lynch, I love his ideas and I like his complete dedication to his projects, but he fails to present it in an interesting way at times. This wad the case here with Cosmopolis. It's not completely his fault though, as Pattinson made his character almost impossible to listen to, with a soft, boring voice and so little emotion, I wondered if he was alive at times when he wasn't talking.  This isn't something I liked, but I do have a certain respect for it. It has a feel all its own, as every Cronenberg film does. The cinematography is extremely well done and the movie is obviously made with the intent to make the audience think. It did manage to do that, but the more I thought about it, the more I realized; I didn't like what I was watching.
Melvin White
Super Reviewer
Cosmopolis Quotes
| | |
| --- | --- |
| Eric Packer: | This man, the man behind me, he is examining my prostate. |
| Jane Melman: | I should find this situation, what? Awkward? Repulsive? But no, we are in a David Cronenberg movie, and so everything must turn me on, even moldy dog vomit is a powerful aphrodisiac, this fact is true. And so, I am furiously aroused, we should fuck. |
| Eric Packer: | First, the loudest club in this city, I must go to it, perhaps I have parked my haircut there for the night. |
| | |
| --- | --- |
| Benno Levin: | There is nothing in the world but other people. |
| | |
| --- | --- |
| Shiner: | Is there a reason why we're in the car instead of the office? |
| Eric Packer: | What makes you think we're in the car instead of the office? |
| | |
| --- | --- |
| Elise Shiffrin: | Love the world and trace it in a line of verse. |