Cottage Country
(2013)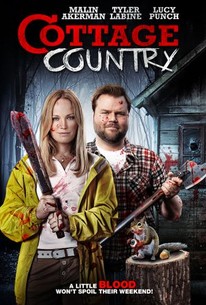 Movie Info
A happy young couple resorts to murder in order to enjoy a peaceful weekend retreat in this gruesomely fun crime comedy starring Tyler Labine and Malin Ackerman. Todd (Labine) and Cammie (Ackerman) are a young couple who are head over heels in love. Eager to pop the question, Todd brings his smitten girlfriend to his family's scenic lakeside cabin for the perfect romantic getaway. But the weekend turns bloody when Todd's obnoxious brother (Dan Petronijevic) shows up with his Russian girlfriend (Lucy Punch), in tow. When Todd impulsively plants an axe in his loathsome sibling's neck, the couple realizes that their only hope for covering-up the crime is to get rid of the intruding girlfriend as well. Later, as the evidence against the murderous couple begins to mount, they discover just how far they're willing to go in order to stay together forever.
Critic Reviews for Cottage Country
Audience Reviews for Cottage Country
It started off good but after the brother was killed the movie went straight downhill.It did pick up again at the very end with the shooting (I was NOT expecting that) but by then who cares? The movie was just about over so it really doesn't matter anymore.I don't know what I was expecting to watch but I'm glad I wasn't expecting anything good because if I was then I would've been REALLY disappointed.The only reason why I think I stuck around till the end was to see how everything ended & I can't believe I did.There were so many times I just wanted to turn it off.DON'T pay to watch Cottage Country.If you have to watch it, Watch it for free
Brody Manson
Super Reviewer
This is a dark comedy without the comedy. It's got a good idea and a good cast, but I think the film has some pretty severe tonal and consistency issues. There's some moments of lunacy and seeing how this relationship, more particularly Cammie, completely manipulates Todd into doing everything she wants to make sure that the crimes that were committed aren't traced to them. She's doing this for completely selfish reasons, as she's already 34, she doesn't want to wait, at the very least, 5 years before she's able to meet someone else, fall in love with him, marry him and have kids. That was pretty cool, but the film just isn't that funny. The funniest scene in the film is the one where they're burying Dov Rosenberg and Todd refuses to fuck up his afterlife by cutting his body up instead of burying him in the ground as Jew tradition dictates. That was easily the best part of the film, at least as comedy goes. Malin Akerman's performance as this manipulative girlfriend who, literally, tells Todd when and how to propose, was easily the best part of the movie. I like Tyler Labine and he's got a very likable presence, but Malin steals the show. Of course, what's stealing the show when the final edit is an absolute mess with very obvious identity issues. The film isn't terrible, as it does have a good cast, but the script falls short of the lead cast's talents. This isn't a particularly good movie to follow Gravity with, I'll say that right now.
Jesse Ortega
Super Reviewer
Cottage Country Quotes
There are no approved quotes yet for this movie.