The Cotton Club
(1984)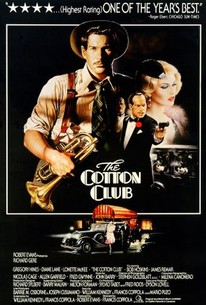 TOMATOMETER
AUDIENCE SCORE
Critic Consensus: Energetic and brimming with memorable performers, The Cotton Club entertains with its visual and musical pizazz even as its plot only garners polite applause.
Movie Info
There are those who insist that the backstage intrigues which occurred during the production of Cotton Club would make a better film than Cotton Club itself. Essentially, this "dream" project of director Francis Ford Coppola was intended to reflect the passing parade of New York in the 1930s, using Harlem's famed Cotton Club nitery as a metaphor of the era. After innumerable in-progress script changes were made and countless post-production "improvements" were imposed, what emerged was a crazy quilt of varying styles, divergent acting techniques and stop-and-start plotlines. Occasionally, Cotton Club is well up to the standards established by Coppola in his earlier, more successful films. The central character, loosely based on George Raft and played by Richard Gere, is a jazz cornet player at the Cotton Club. Gere saves the life of gangster Dutch Schultz (James Remar), who in gratitude takes Gere under his wing, engaging the young man's services as escort for Schultz's girl friend Diane Lane (guess where this leads?) Meanwhile, Gere's overambitious hoodlum brother Nicolas Cage (playing a character inspired by mobster Mad Dog Coll) kills two innocent children during a mob hit and is forced to go into hiding. Cage holds gangster Frenchy Demarge (Fred Gwynne) as a hostage, but Demarge's safety is negotiated by Owney Madden (Bob Hoskins), the mob owner of the Cotton Club (the touching friendship between Demarge and Madden is one of the few subplots to remain intact in the film's release version). Cage is killed, followed in death shortly afterward by Schultz, who is put "on the spot" by Lucky Luciano (Joe Dallesandro). Gere wins a Hollywood movie contract and heads off to Tinseltown with Diane Lane. These plot convolutions tend to diminish the importance of the black characters who work as Cotton Club entertainers. The intriguing fact that blacks were permitted to perform at the club but were denied access as patrons should have been given as much emphasis as Richard Gere's story; instead, we are left with tantalizingly brief snatches of a romance between Gregory Hines and Lonette McKee, and a few scattered musical numbers involving Hines, his brother Maurice, Charles "Honi" Coles, and a staggeringly good Cab Calloway imitator (Larry T. Marshall). Cotton Club tends to leave the viewer feeling as though several vital ingredients are missing from the recipe, but there is still a lot left over to please the ear and eye.
Critic Reviews for The Cotton Club
Audience Reviews for The Cotton Club
The main reason why I watched this was that I worked on a stage show starring Maurice Hines and he mentioned this as a highlight of his and his brother's career. Most of the song and dance numbers don't advance the plot, which weakens the story overall. However, it is too bad that this lost so much money upon release because, separately, the musical numbers and the plot about crime and fame have such good production values. Gregory and Maurice Hines play tap dancing brothers based on their own relationship and performing styles. Gregory's character goes solo at the famous Cotton Club in Harlem, which was only open to white audiences. His character falls for a woman of mixed race. Otherwise, Coppola and whoever really deserves credit for writing don't seem to know how to develop the black characters. They are still pushed to the background. Bob Hoskins and James Remar play real life gangsters, Owney Madden and Dutch Schultz, respectively. Richard Gere and Nicolas Cage play a pair of brothers, as well. And each of them is loosely based on a real person, though not a real pair of brothers. Gere, who is really playing the trumpet on the soundtrack, plays the character Dixie Dwyer, who is likely a version of the 30s and 40s actor George Raft. The award nominated editing and art direction are eye catching. Coppola does generally direct a team that can visually quote other classic films of the genre and the era. But mainly, because of the ensemble cast, and actors playing celebrities in cameo roles, this deserves another look.
Byron Brubaker
Super Reviewer
½
Good motion picture, but The Cotton Club presents some cliches of gangsters movies. Whatever, Coppola made a remarkable film.
Lucas Martins
Super Reviewer
While not the Godfather (and what is really...besides Godfather 2, but I digress) The Cotton Club is a great entertaining little movie. All controversy about it's making aside Coppola and Evans managed to craft a thoroughly entertaining film with several great scenes and mostly solid performances (I'm looking at you Nic Cage and James Remar). I can say however, that this is hands down, the single best tap dancing gangster film ever made.
Ken Stachnik
Super Reviewer
The Cotton Club Quotes
There are no approved quotes yet for this movie.