Country Strong
(2011)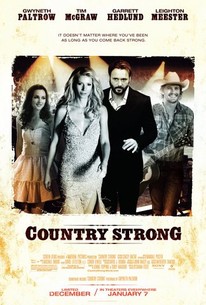 TOMATOMETER
AUDIENCE SCORE
Critic Consensus: The cast gives it their all, and Paltrow handles her songs with aplomb, but Country Strong's cliched, disjointed screenplay hits too many bum notes.
Movie Info
Soon after a rising young singer-songwriter (Hedlund) gets involved with a fallen, emotionally unstable country star (Paltrow), the pair embarks on a career resurrection tour helmed by her husband/manager (McGraw) and featuring a beauty-queen-turned-singer (Meester). Between concerts, romantic entanglements and old demons threaten to derail them all. -- (C) Columbia
Critic Reviews for Country Strong
Audience Reviews for Country Strong
½
I'm not really into country music, and there's plenty of it here, but I still enjoyed this one. I never really got why people are so nasty about Gwyneth as an actress - I'm not a huge fan, but I have always found her reasonably convincing on screen. Here she's really quite a sad figure as a country singer on a downward spiral - sort of how you can see Britney heading if she doesn't watch out! Leighton Meester is also good as an up and coming young singer. As is Garrett Hedlund - I have never seen him in anything else, but he is good here. The characters are all well written, and though it is almost two hours, it never feels all that long or like it is dragging. (Except maybe in the country singing parts, but on the whole, that is not too bad, and for some, it would probably be a plus!). There's not a huge story here, and I can't see it appealing to everyone, but I liked it.
Nicki Marie
Super Reviewer
Cast: Gwyneth Paltrow, Garrett Hedlund, Leighton Meester, Tim McGraw, Alana Grace, Ed Bruce, Jeffrey Buckner Ford, Jeremy Childs, Marshall Chapman Director: Shana Feste Summary: While out on tour to revive her stalled career, once-popular country singer Kelly (Gwyneth Paltrow) falls for emerging newcomer Beau (Garrett Hedlund) and tries desperately to hide their burgeoning romance from her ever-present husband and manager, Ed (Tim McGraw). Written and directed by Shana Feste, this musical drama co-stars Leighton Meester as a former beauty queen trying to break out as a songstress. My Thoughts: "In all I liked the movie, but the script just felt unfinished. Just not developed very well at all. There were some great moments in the film but it can't make up for the mess the script was. The acting was good by most. Tim McGraw is really surprising me with his acting skills, thought he was good. I still can't bring myself to care much for Gwyneth Paltrow's acting. I did on the other hand enjoy Leighton Meester's acting along with Garrett Hedlund. I thought they were good on screen together and had great chemistry. They both have good singing voices as well. Gwyneth just wasn't convincing for me as a country singer nor as an addict. The film does try to shed light on how troubled your soul can get from having such a demanding career. There were things I liked and things I didn't, but in the end the film wasn't as put together as the trailers made you believe it was. The best thing about the film was the music. So watch it just for that if not anything else."
♥˩ƳИИ ƜѲѲƉƧ♥
Super Reviewer
Strong cast. I enjoyed the music portions, even though I am not a country music fan. I am, however, a Gwyneth fan. I think that she is a wonderful actress, and adds alot to every role she plays. Garrett Hedlund was amazing..so much so that I found myself googling him. Tim McGraw..well. eh..someone else better could have done his part. But, all in all, a very good film.
Cynthia S.
Super Reviewer
Country Strong Quotes
| | |
| --- | --- |
| Reporter: | Chiles, who is your idol? |
| Chiles Stanton: | Kelly Canter and Jesus Christ. |
| Beau Hutton: | You and Jesus Christ, who would have thought? |
| Kelly Canter: | They love her. |
| | |
| --- | --- |
| Kelly Canter: | I love that baby too, Beau. I was sadder than anyone when I lost it. I can't change my past, you know? I can't change how I drink. I'm stronger than all of us, you know? |
| Beau Hutton: | I know. |
| Kelly Canter: | I'm gonna give them one hell of a show. |
| | |
| --- | --- |
| Beau Hutton: | I enjoy playin' music, I don't care who it's for. |
| | |
| --- | --- |
| Kelly Canter: | (to Chiles) That's how it's done, sweetheart. |
| Kelly Canter: | That's how it's done, sweetheart. |