The Cowboys
(1972)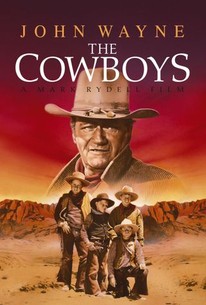 Movie Info
In one of John Wayne's more interesting late Westerns, "The Duke" plays Will Anderson, a crusty veteran cattleman preparing a 400-mile drive to get a herd of steers to market. Shortly before the trip is scheduled to begin, Will's crew quits when they get word of a nearby gold strike. With little time and few alternatives, Will recruits eleven boys, ages nine through 13, and teaches them the basics of herding cattle and riding the range. Bruce Dern plays a memorably foul villain and cattle rustler named Long Hair, while Roscoe Lee Browne portrays Jebediah, the cattle drive cook, and Colleen Dewhurst is Kate, a madam. ~ Mark Deming, Rovi
Critic Reviews for The Cowboys
Audience Reviews for The Cowboys
As many westerns as John Wayne has been involved in, at this point, he just quits and goes for a film that is simply titled "The Cowboys". I don't know if I'm more amused by the sheer genericism of this film's title, or the fact that it must not be that generic, seeing as how the only thing that took that title since this film was its TV series spin-off. I'd say that it's a testament to the success of this film that it inspired an ABC program, but the TV spin-off to "How the West Was Won" didn't have but 25 forgotten episodes, and it was still way more successful than this film's spin-off. A good film doesn't necessarily make for a good television, yet that didn't stop Mark Rydell from going on to turn to TV after this film, at least for success. I don't even know if this film is that much more successful than Rydell's other filmmaking endeavors, because it barely exceeded its budget upon release, which is shocking, considering that it stars such mega-stars as John Wayne... Roscoe Lee Browne, Colleen Dewhurst, Stephen Hudis, A Martiniez and - oh - Bruce Dern... before he was famous (Man, Bruce Dern is old). Okay, maybe this film doesn't have quite the respectable ensemble cast of something like "How the West Was Won", because it even predated the moderate success that Robert Carradine saw in, well, of all things, "Revenge of the Nerds". I never could have imagined seeing John Wayne kick some butt alongside a nerd, yet here it is, and, you know, jokes aside, it does indeed make for a better film than it does a TV show, apparently, despite its flaws. The film seems to try and freshening things up in a lot of ways, and is often successful, but when it's not, it dives pretty deeply into formula, if not predictability, and a little too superficially at times. The drama is an often sentimental, if not melodramatic study on boys being guided into adulthood by an old man who grows increasingly more aware of his youth and mortality, and when it's not that, and more inconsequential, it tries to compensate for a lack of dramatic edge with other forms of edge. There is some risky dialogue and content for a film of this time and nature, and this inconsistency in maturity reflects an ambition to make this thing a little edgier, or at least more genuine than the usual Hollywood affair, ultimately held back by the Hollywood safety, though not as much as it is held back by natural shortcomings to the story itself. This film has some rich dramatic highlights as a human study on coming of age and growing old, between which is compensation through a sense of adventure, though not much beyond that, thus, the final product holds a potential to be dramatically underwhelming. It at least feels that way, as the highlights in question are spread out relatively few and far between by meandering filler that play an instrumental role in getting this film to a runtime of about 132 minutes so unreasonable that, as predictable as the narrative is in certain areas, it becomes difficult to tell where exactly things are heading. When you get down to it, as much as you don't want this fun film to end any time soon, you can't help but wondering if it's actually going anywhere with all of its dragging and uneven sense of consequence, both of which could drive a lesser film into underwhelmingness. As things stand, however, inspiration goes a long way in making a rewarding drama that showcases the rise of men, and even the rise of a music legend. Still up-and-coming at this time, John Williams showcases exciting samples of the conventional, but still grand scoring sweep that is now iconic, mixed in with classic western sensibilities, in order to capture a sense of adventure, like production value which is minimalist and conventional for a western, but razor-sharp in selecting distinguished locations. Production value and even musical value, like I said, establish a sense of adventure, and it is anchored by lively directorial storytelling by Mark Rydell that keeps up tight momentum throughout the flick, occasionally broken by some tastefully somber moments that range from intriguing to moving, if not downright powerful. The film is a fun one, with heart, and such thorough, well-crafted entertainment value makes up for a lot of shortcomings to a story whose interpretation still wouldn't be so compelling if it wasn't promising as an idea. For all the natural shortcomings and, for that matter, conventions, the narrative is conceptually refreshing, as well as adventurous and tender enough to hold a solid deal of potential that is done justice by the storytelling. Even Irving Ravetch's and Harriet Frank, Jr.'s script has enough witty color to its dialogue and set pieces to endear, and yet, it's true achievement is often genuine characterization that draws memorable, sympathetic leads. These leads are, of course, made all the more memorable by memorable portrayal found across the board, from the charming John Wayne and Roscoe Lee Brown, - as well as a chillingly antagonistic Bruce Dern - to the surprisingly solid cast of young talents, all of whom make the charm all the more electric with a chemistry that defines the comradery which in turn defines this coming-of-age affair. I've said it before, and once again I'll boast that this is a purely fun film, but not simple, because even though it has its minimalisms, more than that, it has heart, and enough of it in storytelling execution and acting to make a thoroughly enjoyable western. When it comes time to ride out, conventions, sentimentality, an aimless structure, and ambition threaten the film, but more-or-less barely, as the sweeping score, immersive production value, colorful storytelling and charismatic performances and chemistry, all behind an adventurous, when not tasteful story, that make Mark Rydell's "The Cowboys" a delightful and often piercingly emotional portrait on the trials and tragedies on the path to adulthood in the Old West. 3/5 - Good
Cameron Johnson
Super Reviewer
½
A great John Wayne movie!
Jameson Worley
Super Reviewer
This is the best John Wayne's latter-day Westerns. He's more like grandfatherhood at his age to a group of young school boys as his drivers in order to get his cattle to market, but the kids learn well. Bruce Dern is on hand as the outlaw leader who fights our hero in one of the genre's most memorable (and violent) scenes since Red River. Along as a second role model is Roscoe Lee Browne. Possessor of one of the greatest speaking voices in the English speaking world, Browne is the first black man they've ever met. In fact one of the kids uses the "N" word when first meeting him, out of ignorance more than racism. Browne sets them straight by example more than preaching. The oldest two kids, A Martinez and Robert Carradine, have gone on to some considerable adult careers which they are still enjoying. All the kids are a winning bunch however.
Most quote: "We're burning daylight."
Dean McKenna
Super Reviewer
The Cowboys Quotes
| | |
| --- | --- |
| Wil Anderson: | well heres my word get the hell off my spread now |
| Wil Anderson: | Well, here's my word get the hell off my spread now. |
| | |
| --- | --- |
| Wil Anderson: | had my back broke once and my hip twice and on my worst day i get to beat the hell out of you |
| Wil Anderson: | Had my back broke once and my hip twice, and on my worst day I get to beat the hell out of you. |
| | |
| --- | --- |
| Jebediah Nightlinger: | [the boys are acting innocent, while scheming to steal a bottle of whiskey] Boys are always guilty of something nasty. What could it be this time, I wonder? |
| | |
| --- | --- |
| Hardy Fimps: | I never noticed before, but most of the people I know are quiet compared to Mr. Andersen. |
| Slim Honeycutt: | He's quiet... it just comes out loud. |