Cowboys & Aliens
(2011)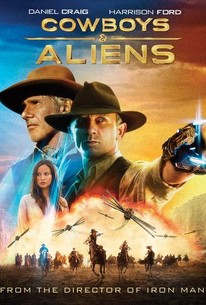 TOMATOMETER
AUDIENCE SCORE
Critic Consensus: Daniel Craig and Harrison Ford are as dependably appealing as ever, but they're let down by director Jon Favreau's inability to smooth Cowboys & Aliens' jarring tonal shifts.
Movie Info
1875. New Mexico Territory. A stranger (Craig) with no memory of his past stumbles into the hard desert town of Absolution. What he discovers is that the people of Absolution don't welcome strangers, and nobody makes a move on its streets unless ordered to do so by the iron-fisted Colonel Dolarhyde (Ford). It's a town that lives in fear. But Absolution is about to experience fear it can scarcely comprehend as the desolate city is attacked by marauders from the sky. Now, the stranger they rejected is their only hope for salvation. As this gunslinger slowly starts to remember who he is and where he's been, he realizes he holds a secret that could give the town a fighting chance against the alien force. -- (C) Official Site
Critic Reviews for Cowboys & Aliens
Audience Reviews for Cowboys & Aliens
½
Now this film is one of the most entertaining films Jon Favreau has directed, And I love the first Iron Man film. Daniel Craig, Harrison Ford, and Olivia Wild all do good jobs as the main characters, and the side characters are all well done too, Clancy Brown as the pastor, and Sam Rockwell as the Doctor all do fantastic jobs. The aliens in this movie have similar desires like the aliens in the terrible film "Battlefield Earth" They want gold, why I couldn't figure it out and am not sure if they mention it. The aliens look interesting, and I will say one thing right now that is a bit of a subplot with one of the aliens and Daniel Craigs character.The film starts out pretty slow but once the aliens show up, it speeds on by like nothing and is a definite thrill ride. The ending 35 minute action scene is incredible to watch and is very well done. All I have to say is, if you're squeamish or very jumpy in horror movies, don't see this, but if you aren't and want a fun action western film, check this out. My final rating 3.5*s out of 5
Michael Edwards
Super Reviewer
An embarrassment for all involved. I'm rooting for the Indians, in this case.
Christian C
Super Reviewer
Every now and again along comes a great idea for a movie ... that simply fails when it comes to execution. The Western that the film begins as is actually okay (if generic), but when the sci-fi portion kicks in, uhh, nothing. Its like they forgot to have fun with the concept. The actors are okay (Craig doing an okay Yank accent, Ford given little to do but grouse), the whole work servicible, but its akin to being served a meal w/o the main course. You leave wanting more.
Kevin M. Williams
Super Reviewer
Cowboys & Aliens Quotes
| | |
| --- | --- |
| Jake Lonergan: | I'm a wanted man. |
| Colonel Dolarhyde: | I could have sworn I saw Jake Lonergan die in that cave. |
| Sheriff John Taggart: | Damn shame. I was hoping to hang him myself. |
| Jake Lonergan: | Jake chuckles and rides off into the sunset. |
| | |
| --- | --- |
| Meacham: | (to Doc - learning to shoot) Don't yank on it - it's not your pecker |
| Meacham: | [to Doc - learning to shoot] Don't yank on it - it's not your pecker. |
| | |
| --- | --- |
| Meacham: | Not bad for a country preacher. |
| | |
| --- | --- |
| Ella: | I told you not to look in the light. |
| Jake Lonergan: | Yeah. Right. |