Cracks
(2011)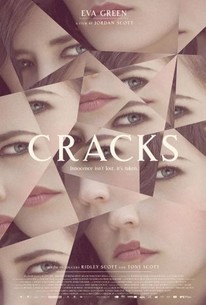 Movie Info
In an austere and remote all-girls boarding school, the most elite students are the illustrious members of the schools' diving team. Di (Juno Temple), Lily (Ellie Nunn), Poppy (Imogen Poots), Laurel (Adele Mccann), Rosie (Zoe Carroll) and Fuzzy (Clemmie Dugdale) are the envy of their fellow pupils who watch on as the girls compete for the attention of their glamorous teacher MISS G (Eva Green). MISS G in turn thrives on the attention she receives from her girls and believes it is her role to teach them the ways of the world. As Team Captain, DI is closest of all the girls to Miss G but her position is challenged when a beautiful Spanish girl, Fiamma (Maria Valverde), arrives at the school and joins the diving team. DI, pulls rank as team captain and lays down the rules in an attempt to assert her position but MISS G is spellbound by Fiamma's beauty and maturity and becomes obsessed with her new favorite girl. Consumed with jealousy, Di encourages the group to bully their team mate and they chase her out of the school. When Fiamma is made to return the girls are forced to try and get along with Fiamma and as they open up to her they too begin to warm to the charms that so captivated Miss G. In an attempt to put their differences aside - the diving team and Fiamma plan a secret midnight party to celebrate the feast of St. Agnes; a ritualistic celebration that is both innocent and erotic. A night that begins with high spirits soon takes a turn that will change the girls' lives forever as Miss G interrupts the evening and takes a drunken Fiamma away to her room... -- (C) IFC
Critic Reviews for Cracks
Audience Reviews for Cracks
Innocence isn't lost. It's taken. Good Film! This film is very well played by all actors, including the young girls, directed beautifully and using both impressive scenery and great costumes. Eva Green played a complex character, easy to sympathize with at times, easy to loathe at others. She carried this film almost to perfection. While the beginning of the film is effective due to its period authenticity and performances, the story itself is somewhat sleight. I realize that the opening hour and a half or so is needed to allow for the stellar final twenty minutes, but maybe the danger could have been alluded to earlier. Every emotion and feeling is conveyed by expert story telling, such as the mood of the scene and the body language of actresses. They draw viewers into their world, and into their feelings. One can easily tell Miss G's attraction, confusion and panic; Di's jealousy and Fiamma's emotional change throughout the film. Such an empathy inducing film is rarely seen nowadays. The cinematography by John Mathieson finds both the haunting beauty of the isolated St. Mathilde's School and the splendid panoramas of nature add immeasurably to the film as does the musical score by Javier Navarette - a score that combines Anglican hymns with gentle piano music. This is a triumph for all concerned and bodes well for the career of Jordan Scott. That being said, Jordan Scott you are a genius! Needless to say, I'm looking forward to see more of your work. Within the confines of a strict, all-girls English boarding school (circa 1930s), a clique students participate on the swim team not only to pass the time, but to be close to their swimming instructor, the enigmatic, yet charismatic, Miss G (Eva Green). While Miss G originally encourages their idolization and crack (crush) on her, the teachers attention is quickly focused on the arrival of an exotic and beautiful Spanish foreign pupil, Fiamma (María Valverde). As the new girl rebuffs her classmates, and further rejects Miss Gs interest, her teammates begin to grow jealous of Miss Gs fascination with Fiamma, and resent the latters distain of their instructor, accumulating in the inexplicable disappearance of Fiamma.
½
The directorial debut of Jordan Scott, the daughter of Ridley Scott is Cracks, a film about an all-girls boarding school and the elite students part of the diving team under the direction of Miss G. It is so much fun to watch Eva Green ride that teacher off the rails, that it's almost the one reason to see this film. The film is otherwise a formless, abstract, mostly well-acted, atmospheric and sometimes boring first film for Jordan Scott.
Raymond Wieser
Super Reviewer
½
A film about a psychotic, predatory lesbian, and a group of boarding school girls. Some tension filled scenes, intertwined with catfights, bullying, and tons of estrogen. All this could have been a great recipe for a memorable movie....but I found it just average. Eva Green, however, is quite great in this....
Cynthia S.
Super Reviewer
Cracks Quotes
| | |
| --- | --- |
| Miss G.: | Girls, we are angels, eagles! To dive is to fly. Set yourself free of the shackles of conformity. Let nothing hold you back except the air itself. You are between heaven and earth. The rules no longer apply. |
| | |
| --- | --- |
| Miss G.: | The most important thing in life is desire. You can achieve anything you want. The world is yours for the taking. Nothing is impossible for you, my girls. All you need is to desire it. |