Cradle Will Rock
(1999)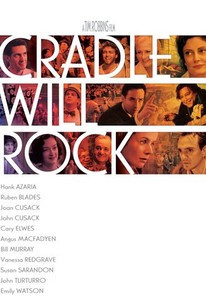 Movie Info
The art and theater world of 1930s New York City is the backdrop for the new Touchstone Pictures film "Cradle Will Rock." As labor strikes break out throughout the country, New York City is alive with a burgeoning cultural revolution. "Cradle Will Rock" is a tapestry of interwoven stories: Nelson Rockefeller commissions Mexican artist Diego Rivera to paint the lobby of Rockefeller Center, while Italian propagandist Margherita Sarfatti sells Da Vincis to millionaires to fund the Mussolini war effort. A paranoid ventriloquist tries to rid his vaudeville troupe of communists, and a 22-year-old Orson Welles directs his Federal Theater group in an infamous stage production of "The Cradle Will Rock," closed down on the eve of its opening by U.S. soldiers. Based on true events, "Cradle Will Rock" relives an exciting and dangerous time in American history, when individual courage prevailed censorship, and artists risked their livelihood by continuing to perform and paint according to conscience.
Critic Reviews for Cradle Will Rock
Audience Reviews for Cradle Will Rock
½
In a word: "Disgusting". Not only is this film radically Marxist (even the Depression-era unions and FDR are depicted as selling out the workers as they march toward revolution!), but it's the most anti-Semitic film I ever recall seeing from a modern Hollywood production. Although the film's central hero, Marc Blitzstein, was of Jewish heritage as a matter of historical fact, that aspect of his heritage is never mentioned. The only references to Jews in "Cradle Will Rock" are a few gratuitous (i.e., completely unnecessary) mentions of Jews as friends of the lucripetous, rich characters and as friends of fascists, and in the person of Sarandon's character -- a sycophantic Jewish woman enamored with Mussolini who helps plunder Italy's cultural heritage (literally for bags of American cash!) and who implores Diego Rivera to compromise his art and Marxist ideology for Rockefeller cash. The apparent suggestion in "Cradle Will Rock" that Jews were complicit in their own persecution in the 1930's for the sake of money is disgusting, morally repugnant and wholly unworthy of the talent involved in this project. I am absolutely shocked and appalled at this film. Although I agree that the production values were better than average and the impressive all-star cast's acting was better than average (Caution: Sarandon's Italian accent and persona were of surprisingly low, street busking quality!), the film's radical Marxist and anti-Semitic messaging leave little option other than an extremely low score. Recommendation: Skip "Cradle Will Rock" unless you're a Marxist or neo-Nazi.
Christian C
Super Reviewer
½
to slow and drawn out. well acted but tough going
Brendan O'Connor
Super Reviewer
Huge cast made it fun to watch, along with the 30's atmosphere. Yet another example of how John and Joan Cusack cannot be apart in movies (much to my dismay). I had no idea the 30's had so much anti communist attacks. A neat piece of history. I especially liked Diego's painting.
Curtis Lilly
Super Reviewer
Cradle Will Rock Quotes
There are no approved quotes yet for this movie.