Crank
(2006)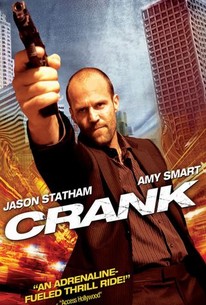 TOMATOMETER
AUDIENCE SCORE
Critic Consensus: Crank's assaultive style and gleeful depravity may turn off casual action fans, but audiences seeking a strong dose of adrenaline will be thrilled by Jason Statham's raucous race against mortality.
Movie Info
A one-time freelance hitman who was just attempting to turn his life around is forced to keep his heart pumping when his vengeful former employers inject him with a lethal poison that will permanently stop his ticker if his pulse sinks beneath an active rate in a non-stop urban action extravaganza starring Jason Statham and Amy Smart. Chev Chelios (Statham) was one of the most skilled assassins in the West Coast crime syndicate. When he hung up his guns in the middle of a job to run off with his new girlfriend Eve (Smart), however, the man who was once the hunter now becomes the hunted. Awakened from his slumber by a telephone call informing him of his precarious situation, Chelios soon discovers that the only way to save Eve from certain death at the hands of his nemesis is to stay two steps ahead of his killers, keep his heart-rate high enough to stay alive, and blast through the streets of Los Angeles in search of an antidote. ~ Jason Buchanan, Rovi
News & Interviews for Crank
Audience Reviews for Crank
[img]http://images.rottentomatoes.com/images/user/icons/icon14.gif[/img]
Directors Cat
Super Reviewer
An adrenaline-filled path of destruction. The Neveldine-Taylor combination presents pointless entertainment and hardcore mentality. With Jason Statham at the focal point of all the damage, the film is wildly out of control and is yet able to provide for a very different kind of action film. 4/5
Eugene Bernabe
Super Reviewer
Crank is the cinematic equivalent of getting a shot of adrenaline right into your cerebral cortex.It renders you slightly confused, very excited, and for some reason...slightly aroused. Now I know you are probably saying to yourself, "isn't that film just Speed, but with a heart instead of a bus." You would be wrong. Not about the heart thing because that is totally true, but you would be wrong in assuming that that is all this film has to offer. What it delivers is truly beyond comprehension. And depending on the elasticity of your moral compass, that could either be a good or a bad thing. After all,this film features, but is not limited to; dismemberment, public rape, hands in waffle irons, phone calls during skydiving, boner gags, instantly disappearing gunshot wounds, Dwight Yokam, and gobs of racism. Fortunately, I had been warned several times and went into it with the correct mindset. Meaning, if you are able to take off your critic's hat and your ability to empathize with other human beings, then Crank is quite an enjoyable experience. But viewer be warned, do not imbibe energy drinks or attempt any strenuous activity while viewing Crank. I had the misfortune of watching this film on my iphone during a grueling bike ride and was pretty convinced that my heart was going to explode at any moment. Now that you have been warned, go rent Crank now and enjoy the ride.
Crank Quotes
| | |
| --- | --- |
| Chev Chelios: | [after chopping off the arm of a bad guy] How'd you like that one, tough guy? How fricking awesome was that, huh? |
| Chev Chelios: | How'd you like that one, tough guy? How fricking awesome was that, huh? |
| | |
| --- | --- |
| Warehouse Hood 1: | Chev you should crawl into a dark corner and do us all a favor an die |
| Warehouse Hood 1: | Chev you should crawl into a dark corner and do us all a favor an die. |
| Chev Chelios: | What you think I have the word "cunt" wrote on my forehead?!!! |
| Chev Chelios: | What you think I have the word 'cunt' wrote on my forehead? |
| | |
| --- | --- |
| Doc Miles: | (to Chev) If you stop you die... |
| Doc Miles: | [to Chev] If you stop you die. |
| Chev Chelios: | (to Store Clerk) If you move you die |
| Chev Chelios: | [to store clerk] If you move you die. |