Crawl
(2011)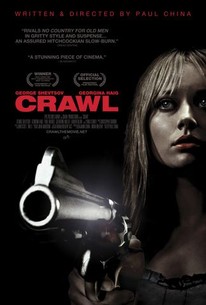 Movie Info
A seedy bar-owner hires a mysterious Croatian to murder an acquaintance over an unpaid debt. The crime is carried out, but a planned double-crossing backfires and an innocent waitress suddenly becomes involved. Now a hostage in her own home, the young woman is driven to desperate measures for survival. A suspenseful, yet darkly humorous chain of events builds to a blood-curdling and unforgettable climax.
Audience Reviews for Crawl
A bar owner is double-crossed by the Croatian hitman he hired in this low budget Aussie thriller. Heavily inspired by 'Blood Simple' and 'Red Rock West', director China does a decent job of building tension but the story simply lacks enough meat to keep viewers interested. It's never made clear what exactly is occurring here, there just isn't enough character motivation revealed. Why did the hitman double-cross his client? Why does he hang around the Haig's house instead of fleeing? These sort of questions are left hanging while instead we get needless time-wasting scenes which add nothing. As a director, China does an adequate job but, as a screenwriter he's sadly lacking. Lead actress Haig stands out in an otherwise bland role.
The Movie Waffler
Super Reviewer
Crawl Quotes
There are no approved quotes yet for this movie.