Crawlspace
(2013)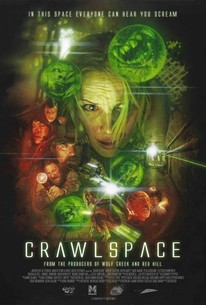 AUDIENCE SCORE
Critic Consensus: No consensus yet.
Movie Info
Deep in the heart of the unforgiving Australian desert lies Pine Gap, a top-secret government facility operated by the United States military. When the base comes under attack from unknown forces, an elite team is sent in to extract the military scientists. They encounter a beautiful young woman with no memory of how she came to be in the base, and find it overrun by disturbed patients from the base's medical sector. But as the squad delves deeper it becomes clear that there is something far more sinister - and far more dangerous - going on at Pine Gap. A taut thriller that recalls the best classic sci-fi action films, Crawlspace is the feature debut of Justin Dix - an award winning special effects supervisor who has worked with George Lucas and Roger Donaldson. (c) IFC Films
Critic Reviews for Crawlspace
All Critics (2) | Fresh (1) | Rotten (1)
Dix's film is a handful of genres all mushed together like different colored Play-Doh in the palm of a pre-schooler - in other words, a sloppy mess.
It's B-movie expertise and genre inventiveness that's always interesting to watch, working where many filmmakers have failed.
Audience Reviews for Crawlspace
½
Drops a Wilhelm scream in the opening ten minutes. If I'm being honest, I didn't love Crawlspace. I'm pretty on board for Australian genre film, particularly work involving Executive Producer Greg McLean, so I would have thought it wouldn't be too hard to get me to love Crawlspace, but I just didn't. I do however, think that there was potential in the piece to have made an absolutely brilliant television series, as opposed to a film. The setting itself may not have translated so well (it takes place almost entirely in a single, confined underground facility) but the story, the world of Crawlspace was begging for expansion, and I think a foray in to the long-format of televised storytelling would have served that expansion well. As it stands, Crawlspace is "Just okay" with enough nifty shenanigans on screen to keep you engage, but not enough follow through as a whole to have you walk away feeling satisfied.
½
Restlessly directed from the very beginning, this B-movie horror/Sci-fi mash up is consistently watchable but throws far too much at the screen and only about a third sticks. Derivative of many films, there's a high spot-the-cliche count (blips on radars indicating enemies closing in, the desperate struggle to reach for a weapon whilst being restrained/strangled by another, self-sacrifice by bomb in order to destroy a baddie), and the nature of the story means it's never possible to root for any characters since they all have nasty secrets (it doesn't help that the performances range from adequate to genuinely terrible). It would be wrong to deny there are some things here that work, including several plot threads, interesting photography, great set design (I'm sure the same tiny stretch of ducts are used over and over but by and large budget restrictions are cleverly disguised) and a couple of decent twists at the end. Not awful.
Daniel Parsons
Super Reviewer
½
The writing was uneven, characters were unlikable, everyone was shouting, and most importantly, you don't have to crawl. It's a B movie that came out of Australia, so you can't really expect much from them. Acting wise, it was just dreadful across the board, everyone was terrible, especially Peta Sergeant, she's the worst. It's basically a downgraded version of Aliens or Event Horizon, with all the soldiers being Hudsons. Althought there's a nice little twist at the end but it doesn't serve for any satisfaction. The problem with the film was the amount of questions left unanswered, you really can't enjoy the film because the characters are all so irritating.
Sylvester Kuo
Super Reviewer
Crawlspace Quotes
There are no approved quotes yet for this movie.