C.R.A.Z.Y.
(2005)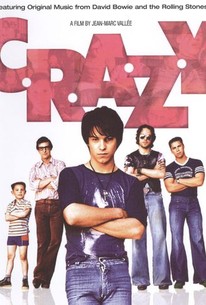 TOMATOMETER
AUDIENCE SCORE
Critic Consensus: Balancing heart and humor against outstanding work from a talented cast, C.R.A.Z.Y. proves the coming-of-age formula can still produce powerful results.
Movie Info
Zachary Beaulieu was born on Christmas Day 1960. He was different from his four brothers but desperate to fit in. During the next 20 years, Zac tries to live a lie, but his life is full of surprises and unexpected experiences, which ultimately leads him to accept his true nature. More importantly, Zac's father grows to love him for who he really is.
News & Interviews for C.R.A.Z.Y.
Critic Reviews for C.R.A.Z.Y.
Audience Reviews for C.R.A.Z.Y.
I wasn't expecting this level of ambition. Not only do we see Zachary's story of self-discovery unfold from his birth to his mid 20s, we also see the evolution of his family and the surrounding culture from the 50s through the 70s. Unexpectedly, the movie so accurately captures the horror and humiliation a child often goes through while suffering from nocturnal enuresis, or "bedwetting," when we see Zach get outed by kids at summer camp. By avoiding sleepovers, I managed to successfully keep my bedwetting known only to my immediate family, but that is where I was also shamed by my step-mother and step-brothers who lectured and teased me about being either too lazy or too chicken to go upstairs to the bathroom. My father, more nurturing in his approach but still lacking understanding, also believed it was voluntary. When I was five, a couple of years before my step-family came into the picture, he started paying me $5 for every night that I didn't wet the bed, inadvertently seeding my humiliation and confusion over whether I could fix myself if I really wanted to and why it it was that I subconsciously chose not to. Unlike 0.5-1% of adults out there and all people in the LGBT community, my developmental abnormality abruptly came to an end at age 13, confirming that assigning neurosis to my condition was absurd. Fortunately, kids are now blessed with the internet to educate themselves and even their families. The message both me and Zachary learned is the same: do not trust people with your differences, exposing yourself will only result in further isolation and loneliness. This lesson is more acutely relevant for Zach, because he was also born with a more polarizing and permanent sexual difference that his father and society also believes are chosen behaviors, and he doesn't want to be outed again. My biggest criticism with the film is that it seems confused and possibly ignorant about the main character's identity. When Zach is a young boy, he shows strong signs of "gender identity disorder," where he only wants a baby stroller for Christmas and he dresses up in his mother's clothes, puts on makeup, and acts like a mother to his infant brother. In the next timeline transition, immediately after his summer camp bedwetting trauma, this desire and behavior disappears entirely and never returns in the film, including when we see him alone. Instead, he becomes hardened and aggressive with a strong counterculture fashion sense and discovering an attraction to men. It's as if another writer took over and switched out Zach's brain, or at least the transgendered part.
Matthew Slaven
Super Reviewer
Outstanding and affecting Quebecois film about growing up in gay in the 1960s and about the bond of family and the changing attitudes of an entire people, localized in one (traditionally large, Catholic) family with five sons. The film takes great advantage of fair use laws to get snippets of very well-known songs into the film - I presume; I don't think a Canadian independent budget would cover Pink Floyd, Jefferson Airplane, Patsy Cline and more! - and it's beautifully shot and acted. It's one that might be hard to find outside of Canada, but it's a movie that's not to be missed.
Daniel Perry
Super Reviewer
One of the more realistic portrayals of what life might be like for a young gay boy, growing up in a family with a macho father and brothers. He tries so hard to be straight, prays daily, and hopes against hope that he can somehow transform himself. This film is about his journey, along with other family troubles. A very interesting sound track, highlighted by Patsy Cline's "Crazy". Overall a nice movie, albeit a little slow at times. Sometimes slow is not so bad...
Cynthia S.
Super Reviewer
C.R.A.Z.Y. Quotes
There are no approved quotes yet for this movie.