Crazy Heart
(2009)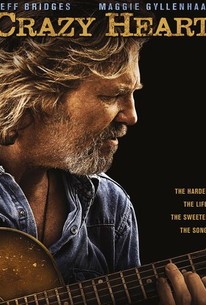 TOMATOMETER
AUDIENCE SCORE
Critic Consensus: Thanks to a captivating performance from Jeff Bridges, Crazy Heart transcends its overly familiar origins and finds new meaning in an old story.
Movie Info
Bad Blake is a broken-down, hard-living country music singer who's had way too many marriages, far too many years on the road and one too many drinks way too many times. And yet, Bad can't help but reach for salvation with the help of Jean, a journalist who discovers the real man behind the musician. As he struggles down the road of redemption, Bad learns the hard way just how tough life can be on one man's crazy heart.
News & Interviews for Crazy Heart
Critic Reviews for Crazy Heart
Audience Reviews for Crazy Heart
½
Even though somehow similar to it, The Wrestler came out as a hard punch while this one feels more like a soft country song that benefits a lot from Jeff Bridges' outstanding performance and turns out to be a satisfying yet unoriginal drama.
Carlos Magalhães
Super Reviewer
½
Jeff Bridges carries this film with another outstanding performance through all the motels, bars and stadiums. It's refreshing to see a drama bout a man who's past his prime years that doesn't entirely give up on its protagonist and doesn't paint an entirely pessimistic picture. Even with little interest in country music, there is a lesson to learn here: it's never too late for a second chance. But some things will only allow you one. Many images of the film stay with you long after it ended.
½
Crazy Heart is a small intimate story you've seen a few times before; the burnt out has been artist drifting in a haze of disillusionment and alcoholism saved by the love of a good woman. But -- NEVER this well executed. This film is consistently honest, touching, heartbreaking, funny and has great original country tunes. Its secret weapon, the most natural, charismatic and apparently effortless actor on the planet - Jeff Bridges. On a downward spiral is deteriorating, aging former country star Bad Blake (Bridges). During a low rent desperate road trip playing in bowling alleys and dives, Bad finds a much younger single mother journalist (Maggie Gyllenhaal) and they fall in love. Though this happens when Bad's in a drunken stupor, a game changing screw up puts the love of his life in peril. Bad knows he can't keep this relationship going unless he gets sober, with the help of friends like his buddy Robert Duvall and his younger protege Tommy Sweet, who is now a huge star, surprisingly sung and nicely embodied by Colin Farrell. What amazed me is the palpable chemistry between Gyllenhaal and Bridges which totally won me over. It's hard enough to have good chemistry when the actors are the same age, let alone thirty years apart. Here, I bought it hook line and sinker and more importantly, I cared! It's a tribute to both actors that their love happens in such a quiet, gradual and truthful way. Young and highly promising writer/director Scott Cooper has written and directed a note perfect chamber film. It may try the patience of some viewers, because the story avoids melodramatic histrionics and big over the top emotions, unfolding very gently. It's very similar to Duvall's Tender Mercies in tone and milieu, and in theme, it's very close to Daren Aronofsky's The Wrestler, though it's more conventional and mainstream than that Mickey Rorke vehicle. The songs by T Bone Burnett are uniformly excellent, mostly in the vein of traditional country with slightly Freudian lyrics with subject matter that subtly touches on the themes of the film. This has my strongest recommendation, but consider yourself forewarned if you hate country music or were expecting big histrionics, gun play and chase scenes.
Josh Morris
Super Reviewer
Crazy Heart Quotes
| | |
| --- | --- |
| Bad Blake: | I don't know what he looks like. I don't know what he does. I never taught him how to ride a bike or watch him play baseball; none of that. |
| Jean Craddock: | Why not? |
| Bad Blake: | I wasn't there... Even when I was. |
| | |
| --- | --- |
| Wayne: | Hey, you look like shit man. Oh-ho! |
| Bad Blake: | Yeah. I know. It's on account of all the toilets I have to play in. |
| | |
| --- | --- |
| Bad Blake: | (To Tommy Sweet) Those are the ugliest goddamn boots I've ever seen in my life. Was the salesman threatenin' to shoot your dog? |
| Bad Blake: | [to Tommy Sweet] Those are the ugliest goddamn boots I've ever seen in my life. Was the salesman threatenin' to shoot your dog? |
| | |
| --- | --- |
| Tony: | Thought you weren't gonna show. |
| Bad Blake: | Son, I played sick, drunk, divorced and on the run. Bad Blake hasn't missed a goddamn show in his whole fucking life! |