Crazy Mama
(1975)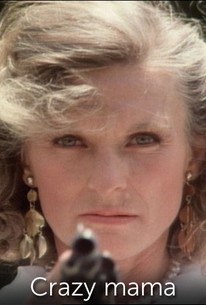 Movie Info
Cloris Leachman stars as Melba, a woman with whom violence is a way of life, in Jonathan Demme's high-pitched "B"-movie Crazy Mama. The film spans three decades in the violent life of Melba, beginning in Jerusalem, Arkansas in 1932, when law enforcers kill her father (Clint Kimbrough), turning her mother Sheba (Ann Sothern) into a bitter widow. Mother and daughter take off to Long Beach, California, and the time jumps to 1958, when the two are thrown out of their beauty salon for non-payment of back rent. Melba now has an attractive (and pregnant) teenage daughter Cheryl (Linda Purl). The three generations take to the road, stealing cars and creating general mayhem across the United States, robbing a motorcycle racetrack box office and a bank. But in 1959, Melba and Cheryl are picked up again, running a Miami Beach snack bar, their lives wasted in free-living terror.
Critic Reviews for Crazy Mama
Audience Reviews for Crazy Mama
This movie has a lot of action, mostly gun fights and car chases, but the acting is average and the story is like Big Bad Mama, just with more characters. I was expecting a dark comedy, as the summary says, but there are very few laughs, and it's not very dark either. It's not a horrendous movie, though, it just needed more work.
Crazy Mama Quotes
There are no approved quotes yet for this movie.