Crazy on the Outside
(2010)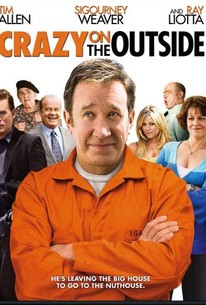 Crazy on the Outside Photos
Movie Info
Fresh out of prison and eager to start a new life, ambitious ex-con Tommy (Tim Allen) plots to revive the family business and rekindle the romance with his ex-flame, only to discover that life as a free man can be even tougher than life on the inside. In order to get back on his feet, Tommy moves in with his extended family, including his sister, Viki (Sigourney Weaver), a compulsive liar, and her husband, Ed (J.K. Simmons), a weatherworn cynic. Thanks to Viki, Tommy's grandmother thinks he's been in France the last few years. Now, as Tommy scrambles to get his life back together, his no-nonsense probation officer, Angela (Jeanne Tripplehorn), tracks his every move. Informed by his sister that his former girlfriend Christy (Julie Bowen) perished in a freak accident, Tommy goes to work flipping patties at Pirate Burger. Then, one day, Christy walks into the restaurant and it's like they were never apart -- aside from the fact that she's now engaged to marry Frank (Kelsey Grammer). Meanwhile, as Tommy's criminally inclined pal Gray (Ray Liotta) attempts to lure him back into a life of petty thievery, the confused ex-con begins to feel like he's falling for his probation officer. ~ Jason Buchanan, Rovi
Critic Reviews for Crazy on the Outside
Audience Reviews for Crazy on the Outside
½
While lacking gut-busting humor this surprising charmer from Tim Allen is complex (in a good way, like lasagna) and fulfilling. I went in suspecting bland and had the rug pulled completely out from underweme. Good performances abound. Okay, there are flaws, but this is overall a superior effort unworthy of the bad reviews given it.
Kevin M. Williams
Super Reviewer
½
It was ok, wasn't that bad. Tim Allen directed this movie, he should stay only in front of the camera instead of been behind it too. A recently paroled ex-con who has trouble adjusting to the wacky normalcy of life outside of prison. He has spent the last three years behind bars after getting caught committing a crime and taking the rap for his much more dangerous pal.
Tommy (Tim Allen) is released from prison after serving a three year sentence stint for video piracy and returns home to his chronic liar of a sister Vicky, (Sigourney Weaver) who told his grandmother that he's been in France all this time, to spare her the real story. Vicky also told Tommy that his old flame, Christy (Julie Bowen), died while he was in prison. That turns out to be another lie; Christy is alive, well and living with Frank (Kelsey Grammer), a rich electronics salesman. Looking to bounce back and avoid the mistakes he made previously, Tommy tries to resist temptations proffered by his old partner in crime (Ray Liotta) who is trying to lure him back into the piracy game and seeks to restart his late father's house-painting business. The bad news is, he's forced by his parole officer, Angela (Jeanne Tripplehorn) to accept a demeaning job at a local burger joint. Let's not forget J.K. Simmons as Tommy's sarcastic over sexed brother-in-law and Angela's kid who tries to use Tommy in a matchmaking scheme. Will Tommy be able to move on, avoid the illegal temptations of his former accomplice, rebuild his late dad's painting business and hook up with his sexy probation officer whose Little Leaguer son has taken a shine to him? Watch it to find out!
Crazy on the Outside Quotes
There are no approved quotes yet for this movie.