Crazy Rich Asians
(2018)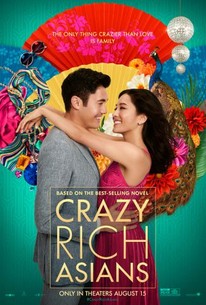 TOMATOMETER
AUDIENCE SCORE
Critic Consensus: With a terrific cast and a surfeit of visual razzle dazzle, Crazy Rich Asians takes a satisfying step forward for screen representation while deftly drawing inspiration from the classic -- and still effective -- rom-com formula.
Movie Info
"Crazy Rich Asians" follows native New Yorker Rachel Chu (Wu) as she accompanies her longtime boyfriend, Nick Young (Golding), to his best friend's wedding in Singapore. Excited about visiting Asia for the first time but nervous about meeting Nick's family, Rachel is unprepared to learn that Nick has neglected to mention a few key details about his life. It turns out that he is not only the scion of one of the country's wealthiest families but also one of its most sought-after bachelors. Being on Nick's arm puts a target on Rachel's back, with jealous socialites and, worse, Nick's own disapproving mother (Yeoh) taking aim. And it soon becomes clear that while money can't buy love, it can definitely complicate things.
News & Interviews for Crazy Rich Asians
Critic Reviews for Crazy Rich Asians
Audience Reviews for Crazy Rich Asians
½
Here is a typical rom-com of the 1930s type (you know, the Great Depression, when everybody dreamed that being rich was the answer to life's difficulties, and the movies reflected that) in that a poor ingenue outsider faces considerable obstacles of the familial variety when she dares to aspire to marry the rich favorite son. So overdone, so familiar, as to be of the go-to-sleep-with- the-teevee-still-on variety. But that's merely the opening premise. Beyond is an intricately designed cultural assault, no less, in a cinematic bid for Asian inclusion and equality that implements your familiarity with those motifs to make its point. There's simply too much to list and so I'll only note that the romantic lead attempts a Cary Grant impersonation - shamelessly. Heading this assault is the indomitable Michelle Yeoh (who I love, and so enough about that!) as the hard-nosed matriarch. But, back to the film: pretty good.
Kevin M. Williams
Super Reviewer
This is a good movie that really shoots right down the middle for mass appeal. It does touch on some intricate details about growing up and living with an Asian family but really plays out as fancy blockbuster rom-com. Since this film does naturally come from a different angle than most rom-coms, however, with different issues and obstacles, it at least stands out. The B-story involving Astrid seems rushed and incomplete but leaves open the option for a sequel that will explore her more, which I would like to see.
Sanjay Rema
Super Reviewer
Better than expected. I was glad they left a few things out from the book honestly, though I would have liked a little more Kitty Pong!
Nicki Marie
Super Reviewer
Crazy Rich Asians Quotes
There are no approved quotes yet for this movie.