Creed II
(2018)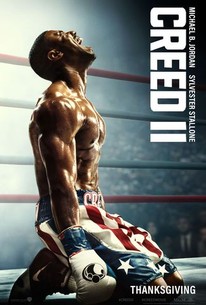 TOMATOMETER
AUDIENCE SCORE
Critic Consensus: Creed II's adherence to franchise formula adds up to a sequel with few true surprises, but its time-tested generational themes still pack a solid punch.
Movie Info
Life has become a balancing act for Adonis Creed. Between personal obligations and training for his next big fight, he is up against the challenge of his life. Facing an opponent with ties to his family's past only intensifies his impending battle in the ring. Rocky Balboa is there by his side through it all and, together, Rocky and Adonis will confront their shared legacy, question what's worth fighting for, and discover that nothing's more important than family. Creed II is about going back to basics to rediscover what made you a champion in the first place, and remembering that, no matter where you go, you can't escape your history.
News & Interviews for Creed II
Critic Reviews for Creed II
Audience Reviews for Creed II
½
As unnecessary a sequel as Rocky IV, it relies on pointless, avoidable fights and Adonis basically needing to prove to the world that his dick is bigger than Ivan Drago's son's; even so, despite how familiar and underdeveloped the script is, the last half hour compensates for all of that.
Carlos Magalhães
Super Reviewer
A powerful sports drama, Creed II is extraordinarily compelling and full of thrills. After winning the heavyweight championship Adonis Creed is challenged by Viktor Drago, the son of the man who killed his father in the ring, and Adonis accepts, seeing a chance to right the past. Michael B. Jordan is excellent, giving perhaps his best performance yet, and Sylvester Stallone and Dolph Lundgren are also really good. And, the script does an impressive job at creating engaging character arcs and the fight scenes are incredibly intense and exciting. Creed II is a definite KO that ranks among the best in the franchise.
Dann Michalski
Super Reviewer
Technically the eighth movie in a franchise spanning five different decades, I think every ticket buyer knows exactly what they are getting with Creed II. It's more of the same formula that's been packing in audiences because it works. Once again Adonis Creed (Michael B. Jordan), son of the legendary Apollo Creed, climbs high, only to be brought low by a challenger, the son of Ivan Drago (Dolph Lundgren), the man who killed his father in the ring. Once more he finds himself with something to prove, a personal score to settle that blinds him as a fighter. I was able to predict every major plot beat from early on, and that's beside the point. Creed II is at its peak performance when it offers small, well-developed character moments to go along with the training montages and boxing beat downs. Spending more time with the characters is where this movie elevates itself from the formula. There's a potently dramatic subplot where Adonis's wife, played by Tessa Thompson, worries that she may have past down her degenerative hearing loss their newborn child. There's a wordless scene of looks that explains everything over the course of an auditory test, and it's gut wrenching. I wasn't expecting the film to humanize the villains as well. Ivan has been living in shame since his loss to Rocky (Sylvester Stallone), cast out by the elites of his society, and his own wife walked out on him and his son. They both see this opportunity as a way to prove something to the woman who abandoned them and the country that turned its back. It's not just a scene either; the Russians (Ukrainians?) get the second biggest storyline of the movie. It made it so that I was genuinely having mixed emotions during the climactic bout, not wanting either side to really lose. Thatï¿ 1/2(TM)s solid writing, movie. The performances are uniformly strong (even Lundgren!) and the emotions build and build until it crescendos. Creed II likely wonï¿ 1/2(TM)t be the last in the franchise, and even though I can predict the sequel already, as long as the filmmakers find room to meaningfully flesh out these enjoyable and winning characters, Iï¿ 1/2(TM)m game. Nateï¿ 1/2(TM)s Grade: B
Nate Zoebl
Super Reviewer
Creed II Quotes
There are no approved quotes yet for this movie.