Creepshow
(1982)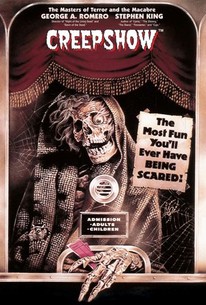 TOMATOMETER
AUDIENCE SCORE
Critic Consensus: It's uneven, as anthologies often are, but Creepshow is colorful, frequently funny, and treats its inspirations with infectious reverence.
Movie Info
Two of the most venerable names in the horror field, author Stephen King and director George A. Romero, present this anthology of original twisted tales inspired by the E.C. horror comics of the 50's and 60's (themselves a more direct basis for the popular Tales from the Crypt TV series). The five stories are framed within the pages of a comic book which a boy's insensitive father has thrown in the garbage. The first tale, "Father's Day," features a zombie patriarch returning to claim his Father's Day cake; "The Lonesome Death of Jordy Verrill" stars King himself as a slack-jawed yokel whose discovery of a radioactive meteorite turns him into a walking weed; "Something to Tide You Over" presents a deadly-serious Leslie Nielsen as a cuckolded husband who plans an elaborate seaside revenge; "The Crate" unleashes its ferocious man-eating contents on the enemies of a meek college professor; and "They're Creeping Up On You" pits obsessively-clean billionaire E.G. Marshall against a swarm of cockroaches in his sterile penthouse. The chapters are uniformly creative, filmed in garish comic-book colors, and Tom Savini's makeup effects are quite memorable (particularly the monster from "The Crate"), though the campy treatment does become exhausting after two hours' runtime. The final segment is the most impressive, thanks to Marshall's over-the-top performance, though the planned scope of the cockroach invasion was drastically reduced (no doubt due to budget constraints).
News & Interviews for Creepshow
Critic Reviews for Creepshow
Audience Reviews for Creepshow
Classic franchise written by Stephen King and directed by 'zombie' Romero, starring an all star old school line up including the legendary Leslie Nielsen, Ted Danson, Hal Holbrook, Adrienne Barbeau, Ed Harris, Don Keefer and Stephen King himself...some greats in there folks. The stories are basic but this may be down to the fact the franchise is based on the old 50/60's E.C. Comics. Like the world class 'Twilight Zone' 'Tales from the Darkside' and 'Tales from the Crypt' Creepshow is an anthology of horror tales that aren't exactly 18 rated horror but just kooky fun that would fit your Halloween party perfectly. The stories vary from quite good to rather average to be honest with minimal gore. The film is comicbook style with some lovely animations of 'The Creep' a hooded skeletal zombie who spins the tales with his nice cackling laugh. The stories also have a lot of toon imagery throughout which are suppose to give the impression of boarders within a comicbook, nice but not needed for me. The whole film is also bookended by a short tale like all these anthology films. As for the actual tales they are a mixed bag to be honest, the first being a zombie returning from the grave to get his birthday cake he never received, this has Ed Harris (with hair!) and is reasonable but nothing too special. Second stars King as a dumb farmer who foolishly touches a meteorite that lands in his crops and slowly becomes infected and overgrown with a mysterious space fungus or plant life. This story is better and more original than the basic zombie story and shows King in a really goofy role for some reason. Third story involves Nielsen as a rich jealous man who sets up a nasty fate for his unfaithful wife and her lover Ted Danson. Probably the nastiest short in the film with a horrible way to die but the fact Nielsen is the bad guy makes it hard to take seriously, half expecting George Kennedy to pop up at any moment. Third story stars Holbrook and is a good simple creature tale as a crate containing a large furry razor teethed monster eats people who dare go to close to the crate. Lots of blood and some good fun 'Critter' type eatin in this one Last story isn't too good in my opinion as a hypochondriac businessman lives in a hermetically sealed apartment terrified of bugs and germs, a story derived possibly from Howard Hughes and not very original with a predictable ending. Overall the stories could of been better but they do have charm and are still enjoyable.
Phil Hubbs
Super Reviewer
Richard Vickers: Wentworth! I suggest you get out of here! May I remind you, dear boy, I have the gun!  "Five Jolting Tales of Horror" Creepshow is a pretty good horror anthology. I still didn't like it that much, but it is one of the better efforts in the genre that I have seen. I liked two out of the five of stories, but the style of the whole film made up for the ones I didn't like. Also it had some great actors like Ed Harris, Leslie Nielsen and Hal Holbrook, which made it fun to watch, even when it shouldn't have been. The first story is called "Fathers Day." I found this part to be bad, but watchable. That's a lot more then I can say for the second part, "The Lonesome Death of Jordy Verrill." This segment is pretty much unwatchable. It had the stupidest story, not to mention Stephen King acting. I like the guy; I love his books, but Jesus, he is not an actor. The third is by far the best. It is called "Something to Tide You Over." If features Leslie Nielsen and Ted Danson. The fourth is my second favorite and the only other one I really liked. It is called "The Crate" and it probably has the most interesting sequences, even though the monster looks horrible. The fifth was another bad one; "Something's Creeping Up On You." This is probably the second worst, but not so bad you won't watch the last ten minutes. Had the second part been the fifth; I would have turned it off 5 minutes in.  I wanted to like this much more then I did. It's directed by George A. Romero and written by Stephen King. I love them both, but this wasn't their best work. Still, it's much more ambitious and well made then most of the crap that fills up the horror anthology genre. 
Melvin White
Super Reviewer
My favourite horror anthology by far, a movie format I've never really taken to, but this series of five shorts are very fun and enjoyable and I loved the comic-book style editing. Each segment is quite varied from the next and consist of zombies, infectious meteors, arctic beasts and bothersome cockroaches. It's one of the stand-out horrors of the 80s and with talent like George Romero, Stephen King and Tom Savini involved you'd expect something special.
Creepshow Quotes
| | |
| --- | --- |
| Richard Vickers: | I can hold my breath a long, long time! |
| | |
| --- | --- |
| Jordy Verrill: | (dumping liquid out of meteor, looks at his hand) Meteor shit! |
| Jordy Verrill: | [dumping liquid out of meteor, looks at his hand] Meteor shit! |
| | |
| --- | --- |
| Billy: | [about his father] I hope you rot in Hell! |
| | |
| --- | --- |
| White: | Good evening there, Mr. Pratt. Got bugs again, huh, Mr. Pratt? |
| Upson Pratt: | Don't you talk to me like that, you hear? |
| White: | What way, Mr. Pratt? |