Creepshow 2
(1987)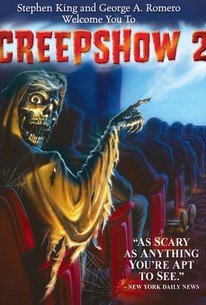 TOMATOMETER
AUDIENCE SCORE
Critic Consensus: Not even the melding of Stephen King and George A. Romero's writing sensibilities can elevate this spineless anthology, which is too simple in its storytelling and too skimpy on the genuine scares.
Movie Info
Horror writer, Stephen King was behind some of the terror in this horror anthology comprised of three not-very-creepy-but-kind-of-fun-anyway supernatural tales. In the first story, "Old Chief Wood'nhead" a cigar-store Indian gets bloody revenge upon the rednecks who killed the gentle old couple who took care of him and the store he stood in front of for many years. In the second tale, "The Raft" four college students learn a deadly lesson about reading signs when they head up to a remote lake to smoke a little dope and go for a swim. In the final episode, a philandering wife hits a hitcher and speeds off only to hit him again and again as she travels further down the road.
News & Interviews for Creepshow 2
Critic Reviews for Creepshow 2
Audience Reviews for Creepshow 2
Stephen King and Romero are back for more tales of terror hosted by 'The Creep', again the film is bookended by a short story that starts off as live action but then transforms into that eerie cartoon style that looks so good in the Creepshow films. The stories again are a mixed bag this time not with quite as great a cast line up as before but we do have George Kennedy this time. First up is a story of an old wooden Indian Chief statue coming to life to get revenge on the youths who killed the old owners of a general store where the Indian is on display. Kennedy is in this story and it is a good one with a nice revenge plot but it is predictable, nice effects on the wooden Chief though. Second story is slightly better than the first with a group of teens stuck on a raft in the middle of a lake because an oil slick type monster that is devouring them one by one. Nice spooky idea that, despite the monster looking like a flat pancake floating on the water, works well especially effects wise when the teens are sucked under by the creature. Last story is the weakest and simply involves a woman hitting a hitchhiker with her car and the hitcher coming back to haunt her for the rest of her journey. Pretty lame predictable plot which must have inspired 'I What You Did Last Summer'. A slightly better selection of short stories over the original minus the good cast but still nothing really outstanding or as memorable as 'Twilight' or 'Darkside', still I must admit I like this old Creepshow flicks very much, love that 80's US Halloween style.
Phil Hubbs
Super Reviewer
½
Despite the cheap production values and the subpar animation that serves as the comics-come-to-life wrap-around thread, this is a very amusing collection of three competent stories, with the first one being only average and the following two more interesting and entertaining.
Carlos Magalhães
Super Reviewer
½
Loved the first, and loved this one too. Not sure which I like better, considering I saw the original over a decade ago. I believe through the years, this one will be more memorable to me though, with the blob-like water creature and the hilarious sequences of "Thanks for the ride, lady!" followed by a scream several times.
Jason Owens
Super Reviewer
Creepshow 2 Quotes
| | |
| --- | --- |
| The Creep: | There's a lesson for you kiddies. Never pick up hitch-hikers...On the hood of your car - (chuckles). |
| The Creep: | There's a lesson for you kiddies. Never pick up hitch-hikers. On the hood of your car (chuckles). |
| The Creep: | There's a lesson for you kiddies. Never pick up hitch-hikers, on the hood of your car (chuckles). |
| | |
| --- | --- |
| Annie Lansing: | (talking to herself again) - "What happened, Mrs. Lansing?"...Oh, I ran over some guy and over and over and over and over...and... |
| Annie Lansing: | (talking to herself again) What happened, Mrs. Lansing?Oh, I ran over some guy and over and over and over and over and... |
| | |
| --- | --- |
| The Hitchhiker: | (as a zombie) - How are you doing lady? Thanks...thanks for the ride! |
| The Hitchhiker: | (as a zombie) How are you doing lady? Thanks, thanks for the ride! |
| | |
| --- | --- |
| Annie Lansing: | (after thinking she saw the guy she killed on the road) - You're seeing things, bitch...You can't live with it. |
| Annie Lansing: | (after thinking she saw the guy she killed on the road) You're seeing things, bitch. You can't live with it. |