The Crew
(2008)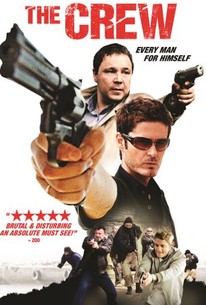 AUDIENCE SCORE
Critic Consensus: No consensus yet.
Movie Info
After years of running a criminal enterprise, Ged Brennan (Scot Williams) is ready to go legit. In order to start his new business, however, he'll have to raise some capital through one last heist. The plan goes awry when each of his crew members decides to take the prize for themselves, leaving Ged in the middle of a violent war between former colleagues.
Critic Reviews for The Crew
There are no critic reviews yet for The Crew. Keep checking Rotten Tomatoes for updates!
Audience Reviews for The Crew
"A decent mob/crime thriller. I thought the story was good paced and there was some good intense scenes. I don't think it's done as good as the likes of 'Snatch', but still a solid film. This one was a bit more grittier than some of the other films I have seen in this genre. The acting is pretty solid. Although the wife got on my nerves for being so stupid. Worth seeing at least once."
♥˩ƳИИ ƜѲѲƉƧ♥
Super Reviewer
½
In a word...fantastic!! This film follows the same hardcore gangster films making their way out of England with a fury. Its definitely a good break from hollywood with the unique brand of English violence and justice. The acting and directing was surprisingly good. None of the actors are big names this side of the Atlantic, but you will notice their flair in acting. Gritty. Violent. Well done...
Cynthia S.
Super Reviewer
This movie is complete garbage. There is no real plot so to speak. You have a bunch of random rejects doing even dumber things. I should have stopped when I saw one guy start to blow another. That should really have been the point I called it quits. But no I kept watching because I had watched that much I wanted to see how it ended. Next thing I know a large lady shits on a guys face. Provides nothing for plot but to show what kind of worthless degenerates are present in this film. Forget about actually building character, none of them had any redeeming qualities. People so self absorbed to care about anyone else. It tries to be witty and do a classic last minute swap where you hope the thieves get away. Yeah, you never get emotionally invested in ANY of the characters to want them to win. I wished throughout the entire movie to see each and everyone of of them die a slow painful death. Although there was a rather slow and painful death in it. Some guy they apparently were close to ends up with his hands nailed to a tree and just beat like a pinata. That was the only "decent" part of the movie. This is all the way near the end and so not worth watching. I saw the cover and thought I recognized the guy from "Snatch" and thought this movie would be something like that. You know, good. Boy was I wrong. I can't stress enough do not watch this piece of shit. It is the biggest waste of time I have experienced since my last two ex's. I mean this is utter rubbish.
Aurelius Duchtius
Super Reviewer
The Crew Quotes
There are no approved quotes yet for this movie.