Crime in the Streets
(1956)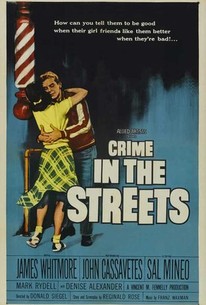 AUDIENCE SCORE
Critic Consensus: No consensus yet.
Crime in the Streets Photos
Movie Info
Frankie Dane (John Cassavetes) is the leader of the hornets, a local street gang that has had its share of rumbles and other trouble with the police. When one of his members is fingered to the police by a neighbor (Malcolm Atterbury) for having a gun, Frankie vows revenge, and when the same man humiliates him in public, he decides it's got to be murder. But only two members of the Hornets, mentally unstable Lou Macklin (Mark Rydell) and would-be full-fledged member "Baby" (Sal Mineo), are willing to go along, and even one of them is shaky -- the rest of the gang draws a line at killing. Social worker Ben Wagner (James Whitmore), who runs the local youth center, has been trying to reach out to the members of the Hornets and sees that something is splitting Frankie and a couple of the others off from the main gang, and is concerned enough to find out what it might be -- especially when Frankie's younger brother, a really nice kid named Richie (Peter J. Votrian), tells him that he thinks Frankie's planning to kill someone. He tries getting help from Frankie's mother (Virginia Gregg), who's too tired from her job to do much more than keep Richie from becoming like his brother, and Mr. Gioia (Will Kuluva), "Baby"'s father, who doesn't understand what went wrong between him and his son. A three-way battle of wills ensues as Frankie tries to hold his plan together and resist Wagner's efforts to intercede -- in the end, several lives are at risk, as Frankie ends up with his knife at the throat of his own brother, fully ready to use it.
Critic Reviews for Crime in the Streets
Audience Reviews for Crime in the Streets
this is the usual concrete jungle/wild in the streets teenage delinquent drama, aside from cassavetes' intense performance, still a few years away from making his own films
Stella Dallas
Super Reviewer
½
Once you get past the stellar title sequence you'll probably spend most of the 90-minute running time wanting something very bad to happen to John Cassavettes' character. Crime in the Streets starts off kind of promising but it quickly turns into a Rebel Without Cause/Blackboard Jungle copycat with none of the charisma.
Michael Gildea
Super Reviewer
No poster? so rude. I almost cried at the end. "Richie! You're my brother...I love you! Ahh so geat. So this kid Richie, a lousy good for nothing hood, wants to kill a man who slapped em. But does he have what it takes...you'll just have to find out. Don't mind the corny voice over.
rocko perkovich
Super Reviewer
Crime in the Streets Quotes
There are no approved quotes yet for this movie.