Crime Novel
(2005)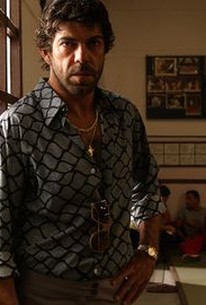 Movie Info
Giancarlo De Cataldo's best-selling tale about three lifelong friends effectively take control of organized crime in modern-day Rome comes to the screen in this sweeping crime drama from director Michele Placido. Libanese (Pierfrancesco Favino) is the cold-hearted leader of a juvenile delinquent trio that also includes undyingly loyal Freddo (Kim Rossi Stuart) and power-hungry Dandi (Claudio Santamaria). After kidnapping and casually murdering a baron (Franco Interlenghi), the scheming friends soon form the shady alliances with the local gangsters, corrupt cops, and secret service members that will allow them the opportunity to effectively corner the market on heroin sales. Meanwhile, determined Inspector Sciloja (Stefano Accorsi), who has made it his goal to bring Libanese and his cronies to justice, stealthily manages to trace back the marked ransom money from the baron's kidnapping to Dandi's girlfriend Patrizia (Anna Mouglalis) - an alluring call girl whom the inspector soon finds himself falling for. But Inspector Sciloja isn't the only one to fall under the spell of a female who seems strangely out of his reach. On the other side of the law, Freddo becomes enamored by the decidedly pure Roberta (Jasmine Trinca), whose attempts to educate the smitten thug in the beauty of the Italian Masters seem to be made in vain. In projecting a fictionalized tale of murderous criminality against the larger backdrop of Italy's turbulent social history during the waning decades of the 20th Century, director Placido strives to craft a film that is not only entertaining, but historically relevant as well.
Critic Reviews for Crime Novel
Audience Reviews for Crime Novel
½
A group of small time street punks use violence and intimidation to rise to the level of the crime lords of Rome during the 70s and 80s. A gang related crime story intertwined with the actual events of the time, all set to a soundtrack of contemporary hits shows Romanzo Criminale's aspirations to being Italy's answer to Goodfellas, but it falls rather short of Scorsese's masterpiece in terms of grittiness and sophistication. It has the prerequisite violence and hard boiled characters, but its one note pacing and episodic script makes it feel rather more like a crime based soap opera than a tough examination of the criminal mentality. The choice of music is also a little too Heart FM and the scenes that intercut news footage from the time don't quite gel together properly, making it seem more exploitative than informative. It is well played and fast paced enough to make it slickly entertaining and is certainly worth a couple of hours of your time if you're a fan of the genre. But it was a mistake comparing it to Goodfellas and The Godfather because it was never going to measure up to those indisputable classics.
Friends since childhood; Libano, il freddo and il dandi. three hoodlums who share an appetite for thrills and easy money, start a vicious attack to take control of the city. Michele Placido is primarily an actor, a very good one, he is not too sharp at the director's seat; his film is overlong, a bit stylistically plain and even feels somewhat fragmented, however, it has an interesting background information, and the acting is well done. It's not only a gangster movie, but a slice of italian history, showing the rise of 'Banda della Magliana' the chiefs of the underworld in Roma, their chess-like strategies, and their links with notorious and devastating rebellious acts like bombings and the kidnapping and murder of prime minister Aldo Moro by the red brigades.
Pierluigi Puccini
Super Reviewer
A very different style gangster film, with a deep look into all the characters involved. Quite fast moving, which left me a little lost in parts, but extremely well acted and ultimately a great film. 4 STARS
Lady D'arbanville
Super Reviewer
Crime Novel Quotes
There are no approved quotes yet for this movie.