Crime Wave
(1954)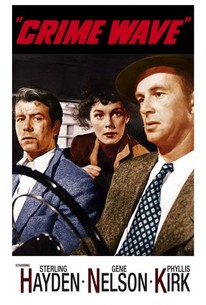 Movie Info
A car with two men visible in it pulls up to a Los Angeles service station at night, with a single attendant (Dub Taylor) working. As he starts to pump the gas, he doesn't see the third man come around the side until it's too late and he's knocked cold. The trio carries out their robbery but before they can finish, a motorcycle cop rolls up. A gun battle ensues, and one of the robbers is shot, as is the police officer. Now a manhunt is on for the trio, all escapees from San Quentin who were making their way south; the other two give the wounded man enough money to get to the apartment of a former cellmate of one of them, Steve Lacey (Gene Nelson). But Lacey is genuinely trying to go straight and live a clean, honest life with his wife, Ellen (Phyllis Kirk), and wants nothing to do with anyone he knew in prison, or with harboring an escaped prisoner. He's even more unhappy when Dr. Otto Hessler (Jay Novello), another ex-con and a veterinarian, arrives to treat the gunshot victim. But when the hood dies, matters get even more complicated -- Lacey's life becomes a nightmare as the police arrive, led by the hardboiled Det. Sgt. Sims (Sterling Hayden), who doesn't believe that any hood ever goes straight. Sims doesn't believe that Lacey's claim of knowing nothing of the escapees, and is ready to send him back to prison on a parole violation -- even though his parole officer (James Bell) believes him -- when he won't cooperate. And worse still, the other two escapees, Doc Penny (Ted de Corsia) and Ben Hastings (Charles Buchinsky, aka Charles Bronson), force their way into Lacey's home, insisting on hiding out there and threatening Ellen. And as they're now a man short, they want Steve's help on a major heist they're planning -- and will kill Ellen if he doesn't cooperate. Soon Lacey is up to his neck in a daylight bank robbery, timed to the minute, and his wife is at the mercy of a mentally deficient, sexually deviant confederate (Timothy Carey), while the police still seem to be following every trail but the right one. Steve realizes that he is the only one who is going to be able to save himself or his wife from this nightmare, and isn't convinced that he'll get out of it alive -- but by then, between being put on him by Sims and his unwanted companions, he's prepared to die in order to save Ellen.
Critic Reviews for Crime Wave
Audience Reviews for Crime Wave
½
oft told tale but sharp as a razor here with sterling hayden, an actor of more presence than skill, giving maybe his best performance. rumor has it the film was made in two weeks and it's remarkably done, from the opening heist to the tune of doris day's 's'wonderful' to the last crumpled cigarette
Stella Dallas
Super Reviewer
½
Unexceptional noir. Hayden is nothing if not consistent, consistently bad that is.
John Ballantine
Super Reviewer
Crime Wave Quotes
There are no approved quotes yet for this movie.