Crimes and Misdemeanors
(1989)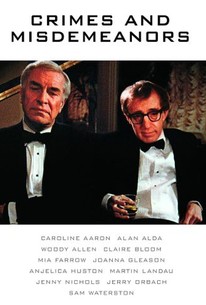 Crimes and Misdemeanors Photos
Movie Info
Considered an important entry in filmmaker Woody Allen's body of work, and certainly one of his most interesting pieces, Crimes and Misdemeanors is an alternately comical and dramatic examination of scruples as it follows two parallel storylines that manage to connect by the story's end. One follows the exploits of a philandering optometrist (Martin Landau) who is trying hard to break off his relationship with an obsessive, overly dependent woman (Angelica Huston) who blackmails him into remaining with her. Her conniving leads to tragedy. The other plotline deals with a depressive documentarymaker (Allen) in love with his producer (Mia Farrow). He is working on a film about her selfish and arrogant employer, a popular television comedian.
Critic Reviews for Crimes and Misdemeanors
Audience Reviews for Crimes and Misdemeanors
I coincidentally happened to watch this on Woody's birthday, and I can't think of a better way to celebrate the man than by watching one of his finest films. In one of his finest films to blend comedy and drama, we get a superb meditation on choice, morality, fidelity, and the consequences of such things told both humorously and tragically. With the dramatic story, we get wealthy society man Judah Rosenthal whose ex-mistress is planning to expose his marital and financial indiscretions. He finds himself torn between taking the advice of his rabbi or following the propositions made by his mob-connected brother. Comedically, there's the story of filmmaker Cliff Stern who is torn between making an important work full of integrity or selling out to make a commercial piece that flatters a man who doesn't really deserve it. Yeah, the two stories have a big contrast in terms of the immediate impact of things, but the repercussions of things are matched in the weightiness of ow it'll all end. This really is a joy to watch, even when it gets dark and heavy. It's impeccably written, wonderfully acted, very compelling, and succeeds with both the drama and the comedy (some of the best laughs being the interactions between Cliff and his niece). And on top of that, the climax and final monologue are simply perfect. I very highly recommend this masterpiece.
Chris Weber
Super Reviewer
Perhaps this is a good movie - after all 90% of reviewers like it. I'm in the 10%. Is the world that full of MD's who get away with murder, comedians who are not funny, filmmakers who cannot make films, marriages that are farces? I guess I would prefer my movies to offer me hope instead of realism.
½
"Sleeper" was and has been my favorite Allen film, always light, breezy and fun, but I haven't seen them all and now this dark rumination forces me to alter my original opinion. The acceptance here of dark forces roaming the void is unavoidable and comedy becomes ... disposable, or at best only momentary in a sea of sadness. Must see for Allen fans.
Kevin M. Williams
Super Reviewer
Crimes and Misdemeanors Quotes
| | |
| --- | --- |
| Halley Reed: | My ex-husband and I fell in love at first sight. Maybe I should've taken a second look. |
| | |
| --- | --- |
| Cliff Stern: | The last time I was inside a woman was when I visited the Statue of Liberty. [Woody Allen describing his sex life] |
| | |
| --- | --- |
| Judah Rosenthal: | Without God the world is a cesspool. |