Crimes of Passion
(1984)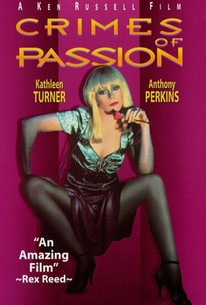 TOMATOMETER
AUDIENCE SCORE
Critic Consensus: Ken Russell and his cast are definitely committed to Crimes of Passion, but whether this sexually charged thriller is worthy of the audience's convictions is altogether more uncertain.
Movie Info
Joanna Crane (Kathleen Turner) is a cold, workaholic sportswear designer, divorced and dedicated only to her job. Once strapped into that role, Joanna looks for an "out" and finds it by donning a wig and hitting the pavement as a $50/trick hooker named China Blue. Explicit scenes show her at work on her night job, including a long S and M segment with a policeman. While making money as China Blue, Joanna runs into a menacing, fanatic preacher (Anthony Perkins) who is out to save her from this life of sin, but in the meantime, he is also busy watching nude girly shows. As China Blue and the sexually ambivalent Reverend heat up their relationship, he becomes difficult to read: is this psycho reverend a killer? While China Blue is plying her trade, Bobby Grady (John Laughlin) has finally realized after 12 years of marriage that his wife Amy (Annie Potts) is frigid and just as he has this remarkably delayed insight, he is assigned by Joanna's boss to find out if she is stealing designs or not. By tracking Joanna, Bobby sees her transformation as China Blue and as might be expected, sex is not far behind.
Critic Reviews for Crimes of Passion
Audience Reviews for Crimes of Passion
This seemed like it would be a good movie at first, it's got an interesting plot, good actors, and it starts out good, but it disappoints in the end. Overall, it's just okay.
½
Ken Russell's masterpiece has cult movie written all over it. A lurid, extreme sex-and-violence fantasy porno-movie, it is also a brilliant satire on the American way of sex. Kathleen Turner really goes the limit as an actress in her role as China Blue. She looks great and gives more to the film than it really deserves. This is getting more hotter than Turner's latest film, 1981's Body Heat. Much of the dialogue is clever, witty, and bitingly effective. The performances are top notch - particularly Anthony Perkins as the maniacal priest whom is captivated by the street-smart, fashion-designer-cum-hooker Turner. The sexual scenes are bold, but not sexually explicit.
Dean McKenna
Super Reviewer
½
Crimes of Passion is Ken Russell's 1984 erotic thriller about a fashion designer (Kathleen Turner) who moonlights as hooker China Blue by night. Along the way she is followed and lusted for by a man (John Loughlin) keeping tabs on her and a crazy street preacher (Anthony Perkins) hellbent on "saving" her. Ken Russell's films are all over the top sights for the eyes and the redlight district that China Blue frequents is a great set piece. Kathleen Turner is great as the super erotic China Blue, playing whatever game her john wants to play. The main problem with the film is John Loughlin's character. I don't know if it's the writing or his acting but the entire plot point dealing with him is so mind numbingly dull and stupid he ruins the picture. An ugly performance from Loughlin. It's Anthony Perkins that salvages the film. His over the top portrayal of the porno obsessed street preacher is a testament to his acting ability. Psycho may have been his greatest role but Crimes of Passion has to be second. He plays the role with such force and drive that it gets to you. He is that damn good in the role. Anthony Perkins made up for Loughlin's terrible performance. Crime of Passion is another one of those '80's erotic thrillers ala Body Double and Fatal Attraction, though this film is very explicit in its sex scenes. A product of it's time, the acting of two out of the three leads makes this a film worth give a view.
Chris Garman
Super Reviewer
Crimes of Passion Quotes
There are no approved quotes yet for this movie.