Crimson Tide
(1995)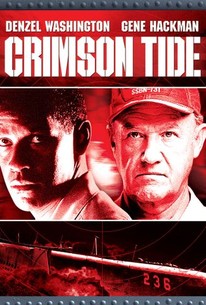 TOMATOMETER
AUDIENCE SCORE
Critic Consensus: Boasting taut, high energy thrills and some cracking dialogue courtesy of an uncredited Quentin Tarantino, Crimson Tide finds director Tony Scott near the top of his action game.
Movie Info
Two leaders with different philosophies about battle and leadership wage war with each other in this tense military thriller. Capt. Frank Ramsey (Gene Hackman) is the commanding officer of a nuclear submarine, the U.S.S. Alabama. Ramsey is a distinguished veteran near the end of his career, and he leads his men with an iron hand; as he puts it, "We're here to preserve democracy, not to practice it." Ramsey is assigned a new second-in-command, Lt. Cmmdr. Ron Hunter (Denzel Washington); Hunter is much younger than Ramsey, Harvard educated, and believes the goal of the military in the nuclear age is to prevent war, not fight it. While at sea, word reaches the Alabama that a splinter group of Russian forces have seized missile silos, and the ship is put on red alert. The Alabama has orders to fire, but as it is receiving a new incoming order the radio malfunctions. It's Ramsey's contention that an order is an order and they are to move forward with the attack, while Hunter feels if there is any question at all about their mission, they should wait until they can receive further instruction, with Hunter going so far as to threaten mutiny against Ramsey if the missile strike is carried out. Quentin Tarantino and Robert Towne both contributed to the screenplay without credit. ~ Mark Deming, Rovi
News & Interviews for Crimson Tide
Critic Reviews for Crimson Tide
Audience Reviews for Crimson Tide
½
Where would we all be without the good US of A to save the world at the drop of a hat huh. This time its the proud US Navy that gets to show us their stuff and stop those pesky Russians once again, darn pesky Russians. A Bruckheimer/Simpson production and boy can you tell, a veritable feast for the eyes with the standard graphic novel-like adaptation imagery that looks glossy, sharp and always exciting (with the assistance of some guy called Michael Bay). All together these three guys created some memorable action flicks that really are the true meaning of blockbuster. 'Crimson Tide' is no exception, well maybe one small exception, and that's the fact this film is probably the most sensible, realistic action flick they've created. Now if you will, this is my little videogame analogy of these flicks. Most of the Bruckheimer/Simpson flicks are what I would call 'arcade' type action flicks, they're big, loud, flashy and give plenty of bang for your buck. 'Crimson Tide' is more of a 'simulator' action flick in the simple fact its more realistic with deeper tension. This of course would be down to the brilliant direction of Ba...errr Scott who knows his way around a good looking military action flick. So in short the visuals here are crisp, smoky and sweat inducing in nice shades of green, blue and red. Life aboard a sub has been created seriously well and you really get that tight feeling as the camera peers down steel tubes and stairwells. Despite the fact almost the entire film takes place in the sub you never once lose interest as we go from action stations against Russian subs to one mutiny after another as Washington faces off against Hackman. This of course leads me to the cast which is really superb here. Even the small fry roles played by small fry character actors are decent. The big guns naturally fire on all cylinders, Hackman is pretty intimidating as the sub Captain whilst Washington easily gains your support as the 'good guy' of sorts. Supporting roles are also solid with Gandolfini in his usual slightly nasty persona, the guy who likes to make his presence known, and Mortensen as the guy torn between his captain and friend. Nice early build up into the film as we gather the crew and see what each are like. There isn't too much in special effects either as most of the action is simply viewing the crew and sub innards as each suspenseful situation looms, kicks off and passes. Brave move that pays off as you would expect lots of fancy CGI sequences. Finally a stirring moving bold musical score to really bring home the seriousness and heroism of the story...less you forget this is an AMERICAN military thriller damn it!! So end of the day yes you know how it will all end, pretty obvious of course. You know which man will stand tall and victorious by the end credits. You know there will be a change of character by the loser and you know there's bound to be a scene where men get trapped in the bowels of the sub and must be sacrificed to save the rest of the crew. Many typical scenes where the crew must decide who is in charge and if they're doing it the right way, the Navy way, the American way...cue rousing musical score and close ups of sweaty stern jawed faces. I like to think of this as Scott's grown up follow up to 'Top Gun' (had to mention it). All the hallmarks of a slick military action flick but much more sensible without 80's pop music and male posing. I saw this opening night at the cinema (ye olde 'Warner Village' cinema's) back when I was a young teen and liked it, I still like it now, what more can I say!?.
Phil Hubbs
Super Reviewer
Totally entertaining naval suspense film with great cinematography and fantastic performances.
Ken Stachnik
Super Reviewer
Enjoyable somewhat, "Crimson Tide" is a classic men's film combined with a beer and shouting at the screen, but it sometimes fails at times as I found myself just getting angry at the over the top gun-ho Americans. Michael Schiffer and Richard P. Henrick provide a decent script, snatched up by studios as a box office smash, but they are let down by slightly poor direction from Tony Scott, who I would love to like but have found it hard so far. Denzel Washington and Gene Hackman portray not very deep characters, but you find yourself egging Washington on and I found myself developing a slight grudge against Hackman, who play Executive Officer Hunter and Captain Ramsey respectively. The man who can only be known as Tony and another as Aragon provide good performances. No one steals the show but they are among the decent cast the best. There are interesting shots, moments which capture the fear that sub-mariners must feel in these situations, and at times a gripping storyline, but the film is let down by over the top beats and acting that does drive me to frustration at times. Although not the best film of all time, "Tide" is a decent film, enjoyed by not only the typical man but also many others as well. *** 3 Star
Adam Kelly
Super Reviewer
Crimson Tide Quotes
| | |
| --- | --- |
| Lt. Cdr. Ron Hunter: | In my humble opinion: I believe, in the nuclear world, that the true enemy is war itself. |
| | |
| --- | --- |
| Lt. Cdr. Ron Hunter: | Thank you. |
| Cob: | Thank you?.......fuck you. |
| Cob: | Thank you? Fuck you. |
| | |
| --- | --- |
| Capt. Frank Ramsey: | Mr. Hunter, I've made the decision. I'm captain of this ship. NOW SHUT THE F**K UP! |
| | |
| --- | --- |
| Capt. Frank Ramsey: | What'd you think, son? That I was just some crazy old coot, putting everyone in harm's way as I yelled "YEE-HA!"? |
| Capt. Frank Ramsey: | What'd you think, son? That I was just some crazy old coot, putting everyone in harm's way as I yelled 'YEE-HA!'? |