Crocodile Dundee
(1986)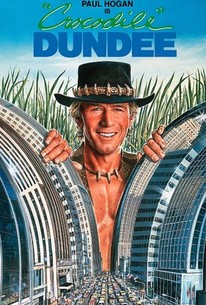 TOMATOMETER
AUDIENCE SCORE
Critic Consensus: Infectiously easygoing charm and a leading man in the role he was born to play help Crocodile Dundee make the most of its familiar fish-out-of-water premise.
Movie Info
Accustomed to a simple life in the Australian Outback, a legendary crocodile hunter has trouble adjusting to his new surroundings when an American journalist brings him to New York City. This Australian comedy delivers exactly what one would expect: plenty of fish-out-of-water gags about the hunter's reactions to the absurdity of modern urban life. Though he initially seems rather naive, Paul Hogan's "Crocodile" Dundee soon demonstrates that his natural ways are rather quite well-suited to city life, proving himself equally adept at defeating muggers and charming members of high society. Along the way, as one might expect, a romance develops between the rugged hunter and the hardened journalist, who finds herself enchanted by his down-to-earth behavior. The story is not particularly original, but the film's good-natured humor proved extremely palatable to audiences, as indicated by its worldwide box office success. ~ Judd Blaise, Rovi
Critic Reviews for Crocodile Dundee
Audience Reviews for Crocodile Dundee
Like its star Paul Hogan this film was once big, real big, a force to be reckoned with, but has since completely disappeared into obscurity. There was a time when the slender blonde leather faced Hogan was everywhere here in the UK, mainly advertising beer and acting the gruff Aussie, it was very popular. I think what is so endearing about this film is Hogan's character, his charm, lack of tact, surprising strength, rugged looks, Tarzan like abilities, gloriously over the top threads, blatant unknowing male chauvinism and the overall stereotypical rough Aussie masculinity bordering on rudeness we've all heard about. The epitome of the typical Aussie cowboy living in the merciless Aussie outback. Yet despite all that he's still a decent man, good natured, bit of a ladies man and a very likeable fellow who does what's right (most times) or what he believes is right. He accepts who he is and we the audience accept it too, he's a bit of a lad (albeit middle aged lad). I tend to think that the rather over board portrayal of Mick Dundee is kinda toyed with for the international audience. I'm sure there are folk like this in the depths of the outback but the extreme stereotyping going on I think is there to make people laugh, give them what they expect but bigger. Everybody has a perception of different people from different countries and this is what many countries probably expected to see (at the time) when it came to Aussie blokes living in the bush (or Aussie males as a whole). The ragtag, scruffy, unwashed, unshaven, dirty shirt wearing bar patrons in Walkabout Creek pretty much some up the humongous stereotyping going on. Or maybe I'm wrong, maybe this IS how blokes in small desert towns of Australia's outback look and behave! Maybe all the sheila's are rather butch with cropped hair and work behind the bar...beats me, but it seems a tad forced. The plot is pretty much your Prince Charming type affair really, but in the Aussie outback, a modern day Tarzan. The beautiful blonde Kozlowski goes walkabout with Hogan's Dundee, gets into dangerous situations, shown how to survive, meets local Aboriginal tribes folk and slowly falls in love with the athletic bushman. The first half of the film is set in the outback of Oz and displays terrific scenery alongside some great visual gags and exciting moments, including Kozlowski's ass. The second half of the film is set on the streets of New York and again displays some genius visual gags (for the time) alongside more expected exciting moments...you just knew the pair would come across street punks at some point. What is amazing is back in the day (and now even) this film was a fresh idea, it was quite unique and still is really. If you scratch beneath the surface it tends to have a kind of 'Police Academy' motif/theme really, lots of obvious setups for hero moments, love scenes, silly gags etc...But its such a slice of good wholesome cheer I really can't fault it at all. You know what I'm gonna say...looking back this film is horrendously cliched, cheesy and predictable, seriously so. But back in the 80's this was a tremendous hit and rightly so, it has everything you could want for a great fun time with a lovely happy ending. Only downer I can see is this franchise totally typecast Hogan and pretty much ended his film career as he never bettered this, his best rough bluecollar Aussie charmer.
Phil Hubbs
Super Reviewer
Crocodile Dundee is a good little comedy film starring Paul Hogan. The film is pretty funny, and has a good cast starring alongside Hogan. The jokes are funny and the story is interesting. I very much enjoyed this film and the idea behind the film. This is an entertaining film that everyone can enjoy. The film is not perfect, but for what it is, it works well enough to be an effective comedy film. The film is lots of fun and is silly. The film doesn't break new ground, but it does what it sets out to do. This is a fun comedy that if you're in the right mood, you're sure to enjoy. The film will make you laugh and Paul Hogan's performance as Crocodile Dundee is terrific. No other actor could play him. He really makes the character likeable, and the situations that he encounters are humorous. Not the best comedy that one could see, but definitely not the worst. This is an amusing film that will most likely make you smile. If you're looking for a good comedy to watch, then this is the one. It's very different, but that's what makes it good. The films cast make this film a favorite and one of those must see comedies. The film, like I said many times before is not perfect, but it's enjoyable enough for you to be very entertained as you see two absolutely different cultures collide.
½
I must have seen this movie more times than I have seen my own reflection and still it makes me laugh until I have tears in my eyes. A true classic, Croc Dundee is a mainframe of what makes family comedies timeless.
Unknown Hobo
Super Reviewer
Crocodile Dundee Quotes
| | |
| --- | --- |
| Sue Charlton: | Is it dead? |
| Michael J. "Crocodile" Dundee: | [looks at the crocodile with his knife in its skull] Well, if it isn't, it'll be a helluva job skinning the bastard. |
| | |
| --- | --- |
| Neville Bell: | Oh no, you can't take my photograph. |
| Sue Charlton: | Oh, I'm sorry, you believe it will take your spirit away. |
| Neville Bell: | No, you got lens-cap on it. |
| | |
| --- | --- |
| Michael J. "Crocodile" Dundee: | Call that a knife? Thats a knife. |
| Michael J. "Crocodile" Dundee: | Call that a knife? This is a knife. |