Crocodile Dundee II
(1988)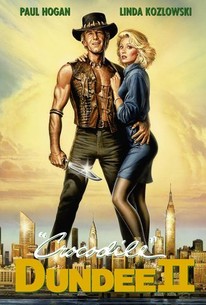 TOMATOMETER
AUDIENCE SCORE
Critic Consensus: Retelling its predecessor's same joke with diminishing returns, Crocodile Dundee II sees the franchise's enjoyability go down under.
Crocodile Dundee II Photos
Movie Info
An evil drug baron rears his ugly head in this sequel to the blockbuster Crocodile Dundee, kidnapping Sue so that Dundee will butt out of the Baron's affairs. Using outback strategy, Dundee attempts to rescue his girlfriend. Reversing the procedure of the first film, the story later takes the hero and heroine from America back to Australia, making Sue the fish out of water. In the interim between the two films, stars Paul Hogan and Linda Kozlowski became husband and wife.
Critic Reviews for Crocodile Dundee II
Audience Reviews for Crocodile Dundee II
Well we're back in the land of the rising sun...no wait, well the land of the bloody scorching sun anyway. Yep, the inevitable sequel to the original hit and to be fair, I have no qualms about it. The first film was a breathe of fresh air and managed to capture the fun spirit of old fashioned adventures with a charming hero perfectly. This film did well upon release but got bad reviews, I don't really see why to be honest. Sure the plot is a bit textbook, daft and over used, but the whole idea of the Aussie bushman still trying to find his way around the modern big city of New York with its cultural differences, lingo difficulties and his general ignorance of anything outside of the outback is still just about amusing. Can't deny that there are moments when your thinking surely he's heard of that before! or seen one of those! When Mick fails to pick up on a Richard Nixon impression and then admits he's never heard of Nixon...yeah OK you've been living in the wilds of Oz but SURELY you've heard of Nixon! come on! The main let down for this film is the stupid ass plot. Its basically your standard baddies kidnap Dundee's girl and he's gotta save her. This incorporates much silly nonsense involving kiddie street gangs dressed in awful 80's gangwear helping Dundee out, its lame. The second half of the plot (two halves just like the first film) sees Dundee and Jane...I mean Sue Charlton back in native Oz hiding out from the bad guys who are now after them for revenge. All that way just for revenge? is it that important? Anyway we are then given an overly long series of chase/hunt sequences where Dundee uses his bushman talents to defeat the bad guys one by one. Kinda got the impression that the despite the fact the first film was a big success it didn't involve any violence or bad guys for Dundee to kill, and this is why we have this bog standard sequel storyline. First film was a nice romantic Prince Charming type story, this is Hollywood action time...Aussie style. What's even more off putting is both Dundee and Sue are in mortal danger during this time from the drug dealers hunting them yet they treat it like some kind of happy camping trip with lots of hugs n kisses. The director can't decide what he wants, remain a lovey-dovey romcom or venture into some proper jungle/desert killing action. Obviously it stays on the light side which equals some rather silly tame bad guy take downs which aren't really believable for the situation. The situation quite clearly shows that all the bad guys need to be killed off. So yeah the story is crap and that's a shame because the franchise is fine for a sequel. There is just enough juice left in Mick Dundee to squeeze out another fun film. The visuals gags are still keeping afloat just about, Hogan still looks the part perfectly as do all other cast members (great continuity) and the imagery of wild Australia in all its glory with the adding of more Aboriginal folk is still very welcome and quite original. But most importantly, overall its still a fun film that just about delivers...by the skin of its teeth.
Phil Hubbs
Super Reviewer
½
Sequel to Crocodile Dundee, this is a decent attempt at a sequel with a good cast and a decent enough story to keep you entertained. The film is not as good as the first, but it's still good entertainment. Paul Hogan returns as Mick "Crocodile Dundee". This sequel is a decent follow-up and combines action and comedy well enough to entertain the viewer. Sure, the film isn't as good as the first, but the film is still fun. The cast do a good, and the story is engaging enough for you to be entertained and have a good time. The film is weaker than the first and does kind of drag out, but it manages to be fun nonetheless. This is a decent comedy and the plot should keep you interested. Fans of the first may enjoy this, but of course it's not as good as the first. For what it is, Crocodile Dundee II does entertain and manages to be a fun film but it's clear that the story could have been improved upon. As a sequel is concerned, this film is much better than most. Of course, the film lacks the fire of the original, but for what it is, the film is a decent action comedy with a story that's entertaining enough to please fans of the first. I enjoyed this film, but not like the first. The film, like I said was a tad weak, but despite this fact; it's still amusing. For a sequel, Crocodile Dundee II is better than most that's for sure.
I liked this movie, it's not great, but it's just as good as the original. It's funny and I liked it.
Crocodile Dundee II Quotes
There are no approved quotes yet for this movie.