Cromwell
(1970)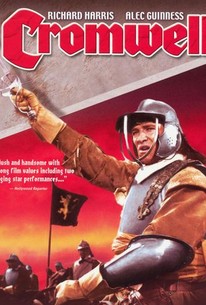 Movie Info
Cromwell has one of the most cockeyed points of view of any historical epic ever made. The audience is supposed to be pulling for 17th-century Protestant leader Oliver Cromwell, who out of religious fervency declares civil war against the weak-willed British monarch Charles I when the latter threatens to reinstate Catholic rule in England. But as played by Richard Harris, Cromwell comes off like a single-issue fanatic, slightly less sympathetic than your average talk-show wacko. As for Alec Guinness' King Charles, he is a weakling to be sure, but is so essentially human (even when pulling a few fast ones in the climactic negotiations with Cromwell) that the audience is rooting for him to come out on top. Perhaps this ambiguity was deliberate, underlining the basic fact that in a religious war, it is a tricky proposition to choose sides. Still, Cromwell might have been easier to take had not the title character been drawn in such broad strokes.
Critic Reviews for Cromwell
Audience Reviews for Cromwell
A great film made greater by the two leads.
Marcus Woolcott
Super Reviewer
Aided by a very good cast, "Cromwell" is a lavish if mostly simplistic spectacle about the conflict between Parliament led by Oliver Cromwell(Richard Harris) and King Charles I(Alec Guinness) that starts in 1640 as England is facing an invasion from Scotland and Cromwell is about to immigrate to America with his family and fellow Puritans. However, the cause of defending farmers from the king's interests intercedes and Cromwell and his allies work tirelessly in Parliament in an escalating fight that leads to civil war. What works best in "Cromwell" is the contrast between Charles and Cromwell which is expressed perfectly in a great debate about whether ordinary men are capable of extraordinary things. Cromwell takes one side of this argument as he fights for a more just society but loses himself along the way, eventually becoming a tyrant as much as the one he eliminates. On the other hand, the subject of religion is skirted over as is Cromwell's brutal stint in Ireland.(Gore Vidal once wrote that the Puritans left England not because they were persecuted but because they were persecuting everyone else.) The movie's one critical error is in arguing that a country requires a strong head of state to succeed. Just don't knock anarchy if you haven't tried it.
Crowmell tells the story of the man who was the driving force behind the English civil war and the father of English democracy. Oliver Cromwell is played with great intensity by Richard Harris as an honourable and incorruptible man who stuck by his principles despite the burden of his conscience; the fact that he was also a bigoted religious zealot, bullying imperialist and war criminal are all conveniently glossed over. But it would be in a film called "Cromwell", wouldn't it. Alec Guiness juggles the arrogance and inflexibility of Charles I and his refusal to relinquish absolute power even though his life depended upon it, with his more human side as a loving father. It also has some (for the time at least) epic battle sequences but it is very stagy, and may not quicken the pulses of those without an interest in politics and history. A well made and well acted historical drama that resembles an illustrated (albeit not entirely accurate) history lesson rather than Braveheart-like popular entertainment.
Cromwell Quotes
There are no approved quotes yet for this movie.