Crooklyn
(1994)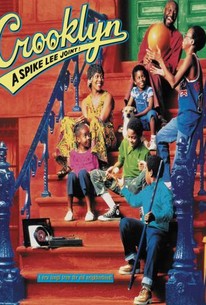 TOMATOMETER
AUDIENCE SCORE
Critic Consensus: A personal project that warmly reflects on director Spike Lee's childhood, Crooklyn is an episodic celebration of family and the indelible facets of one's hometown.
Movie Info
Spike Lee and his siblings Cinque Lee and Joie Lee co-wrote this nostalgic but unglamorized look at a family growing up in Brooklyn in the 1970s, inspired by their own childhood. Woody Carmichael (Delroy Lindo) is a jazz musician whose career is in a slump; he once made a good living as a session musician, but he has moved away from it to devote himself to more serious music, a choice that has not worked out well from a financial standpoint. His wife Carolyn (Alfre Woodard) works as a school teacher to keep food on the table. The Carmichaels have five children, a bright and introspective daughter named Troy (Zelda Harris) and four sons with a habit of causing trouble, and they all share an apartment in a brownstone in Brooklyn. Crooklyn follows the Carmichaels as the kids learn the funny and painful lessons of growing up, Mom and Dad balance their love for each other against the financial and personal difficulties of the creative life, and they all try to get along with the often eccentric neighbors on their block. Crooklyn's soundtrack is enlivened by classic 70s R&B hits, including selections by Sly and the Family Stone, The Jackson Five, Curtis Mayfield, The Staple Singers, and The Chambers Brothers.
Critic Reviews for Crooklyn
Audience Reviews for Crooklyn
Carolyn: Wendell, PLEASE close your mouth when you chew! Wendell: Why can't you let me eat in peace for once? Carolyn: Because you disturbing the peace! You eat like a pig and chew like a cow! Although not as famous as some of Spike Lees other films like Malcolm X or Do The Right Thing, it still has his signature all over it. Nobody makes an urban movie like Spike Lee. In Crooklyn he gives us a great mix of comedy and family drama, although more drama then comedy. Alfre Woodard and Delroy Lindo give great performances as the parents of 4 sons and a daughter. Based somewhat on Spike Lee's own life; it is a fantastic look at a tough but struggling family.
Melvin White
Super Reviewer
While I commend Spike Lee for trying to make a coming of age story for an African American audience and white audience alike, it does nothing to change the typical hollywood formula. That would be fine if he was going for something like that, but his counterculture attitude suggests otherwise. You can see he was trying to be subtle with his messages, but that's never been a strong suit of his. Even the way it is filmed is bland and uninteresting. The characters are flat and often one noted, giving you no sense of connection or respect for them. It's basically a failed attempt at making a powerful film.
Conner Rainwater
Super Reviewer
½
So many of Spike Lee's movies really speak to me despite his experimental musings. For me Crooklyn is personal and nostalgic. So much of this movie reminds me of my youth even tho the dynamics of the family and neighbourhood are relatively dis-similar to my own growing up. Spike creates a mood and recreates scenerios synonymous with urban childhood in the 70's and early 80's. I always call my cousins after watching it. Great feel good soundtrack.
Jasen LaBorde
Super Reviewer
Crooklyn Quotes
There are no approved quotes yet for this movie.