The Crossing Guard
(1995)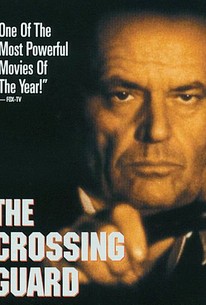 The Crossing Guard Videos
The Crossing Guard Photos
Movie Info
Sean Penn wrote and directed this tale of loss, guilt, and revenge. The daughter of Freddy and Mary Gale (Jack Nicholson and Anjelica Huston) was killed by a drunk driver, John Booth (David Morse). The death of their child took a heavy toll on the Gales; their marriage broke up, and, while Mary has remarried and attempted to put her life back together, Freddy has become an embittered alcoholic, seething with directionless rage and searching for a purpose in life. Freddy intends to kill Booth as soon as he's released from prison, as he believes that jail was not a severe enough punishment for his daughter's death. But Freddy discovers that Booth is still wracked with guilt for his crime and can barely live with himself. He tells Booth that he has three days left to live; Booth tries to find solace in the arms of artist Jojo (Robin Wright), while Freddy continues to wallow in alcohol and self-pity at a strip club. The Crossing Guard also features an original song by Bruce Springsteen; Penn's previous directorial outing, The Indian Runner, was loosely based on a Springsteen song from his album Nebraska.
Critic Reviews for The Crossing Guard
Audience Reviews for The Crossing Guard
½
John Booth: Would you maybe, ya know, would you take a couple days, and maybe think about not taking my life?  "Some lives cross, others collide." The Crossing Guard is far from a great movie, but it still has its moments of power. This is easily my least favorite Sean Penn directed movie, but the other three I've seen from him were all very good. The story here isn't very original, nor are the characters or anything the characters say. If I was struck by anything while watching this film it was how cardboard cutout everything seemed.  Freddy is a divorced, alcoholic jeweler who has never been able to get over the death of his daughter Emily. Emily was killed by a drunk driver years earlier and Freddy and his then wife Mary end up separating not too long afterwards. Freddy and Mary had two boys together too, but Freddy hasn't been around them much, especially since Mary had gotten a new husband. When the drunk driver is released from prison, Freddy goes to him and tells him he has three years to live. We learn through events that John Booth(the drunk driver) is not a bad guy, and that he is very sorry for what he did. After watching the film for an hour, you'll actually like John and hate Freddy.  The performances were so-so. Jack Nicholson has been much, much better, but he isn't bad. I expected a lot more from him, and this movie, based off of Penn and Nicholson's other work, The Pledge, which was a masterpiece. David Morse is also just okay as John Booth. The women probably give the best performances in the film; those being Anjelica Huston and Robin Wright. Obviously when you see Sean Penn's name and Jack Nicholson's name, expectations are going to be high. This isn't at all a terrible movie, but it is more bland then you would like. There's a few scenes that make the movie worth watching, but I wouldn't ever say this a must see film. In fact, if you're going to skip any of Sean Penn's directorial outings, make it this one. Overall, I was disappointed with this film as a whole. It could have and should have been so much better.
Melvin White
Super Reviewer
½
A film I?ve been wanting to see for a while but perhaps my expectations were set too high. The story was slow moving. The performances were average and iddn?t really come up a level even towards the end. True story????
Lady D'arbanville
Super Reviewer
½
Great casting/acting. Good story idea but could probably have been executed better.
The Crossing Guard Quotes
| | |
| --- | --- |
| John Booth: | I think freedom's overrated. You know, if there isn't something bigger than, uh, than freedom, then freedom is just entertainment. |